Movies This Week: May 16-22, 2014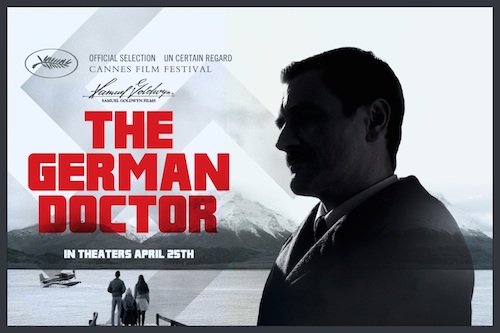 Austin Film Society has another installment of their "That's Genius" series on Sunday night at the Marchesa. They've invited local filmmaker Yen Tan (Pit Stop) to present a favorite film and he chose Parking. The 2008 film from Taiwan is directed by Chung Mong-Hong and will be screened in 35mm. I'm also incredibly excited about Thursday night's Essential Cinema presentation of Bob Fosse's All That Jazz. This month's theme is "After 8 1/2: The Creative In Crisis" and this film tells the story of a Broadway producer who overworks himself right into a heart attack.
The Austin Youth Film Festival is happening on Saturday at Alamo Drafthouse Ritz. Local filmmakers will be on hand to judge short films from area students who have a chance to win prizes up to $1000! Standard tickets are available for just $10 and you also have the option to buy a $25 ticket that includes a t-shirt or a $45 ticket that includes a t-shirt and pre-order of a DVD collection of the short films that are screening.
Also at the Ritz this weekend, the Marx Brothers retrospective continues with Room Service in 35mm on Saturday morning. This 1938 comedy also features a wonderful early performance from a young Lucille Ball. On Saturday and Sunday afternoons, the Ritz is screening a documentary called Vanishing Pearls: The Oystermen of Pointe A La Hache that focuses on the aftermath in a small community dependant on oyster fishing in the wake of 2010's BP oil spill. There are still tickets available for The Matrix trilogy marathon Sunday afternoon. All three films are screening in 35mm, as is the animated rocker Heavy Metal for Music Monday this week.
More Drafthouse hightlights this week: Alamo Village has a rare screening on Tuesday evening of Merantau, the debut feature from Welsh director Gareth Evans (The Raid and The Raid 2). It's playing as part of the new "Eastern Fury" series of martial-arts classics. The Alamo Lakeline is hosting Afternoon Tea on Saturday afternoon with Kenneth Branagh's 1993 adaptation of Much Ado About Nothing. They've also got the Texas premiere of Meet Me There on Tuesday evening, which is a new horror film from Austin-based Greenless Studios.
Films from the Paramount 100 are going to start folding into the Summer Classic Film Series by month's end, but multiple screenings are on deck this week. On Sunday afternoon, there's a 35mm double feature at the Paramount of 1933's Little Women and 1937's Captain Courageous. Tuesday night, there's another 35mm double feature with two Depression-era dramas: 1936's My Man Godfrey and 1937's Make Way For Tomorrow.
Violet Crown Cinema is going to be turning the spotlight on two of the best debut films of the last 15 years on this week's calendar. On Tuesday night, they team up with The Criterion Collection for David Gordon Green's debut film George Washington. It's followed on Wednesday night by Rian Johnson's Brick, which is a CineBrew presention. Each ticket for Brick comes with a craft beer from Prairie Artisan Ales and a souvenir glass.
Movies We've Seen
The German Doctor - Lucia Puenzo adapted her own novel Wakolda into this acclaimed drama from Argentina. The film follows Third Reich doctor Josef Mengele (known as "The Angel of Death") and his journey from the Auschwitz concentration camp to exile in South America. Debbie's review praises the overall production, noting that "the film is well cast, with superb performances." (Regal Arbor)
Godzilla - British director Gareth Edwards burst onto the festival circuit in 2010 with the SXSW premiere of a microbudget sci-fi thriller called Monsters. Now, he's been given a huge studio budget and a cast that includes Breaking Bad's Bryan Cranston and Juliette Binoche to resurrect one of the greatest monsters in cinema history. In his review, Mike says that this reboot "offers just what you've come to expect from the franchise: random destruction, mayhem and giant monsters fighting." (wide, choose from 2D, 3D, digital IMAX 3D and D-Box Motion Seating screenings)
Also Opening in Austin
God's Pocket - Mad Men star John Slattery makes his feature directorial debut with this drama based on Pete Dexter's 1983 novel. The movie, which debuted at Sundance Film Festival earlier this year, features one of the last performances from Philip Seymour Hoffman and also Slattery's TV co-star Christina Hendricks, John Turturro and Richard Jenkins. While not without supporters, the reviews have mostly not been kind. Variety dubbed it "a strained pileup of small-town stupidity that might more honestly have been titled Sad Sacks 'R' Us." (Regal Arbor, also available on cable VOD)
Locke - Tom Hardy stars as the title character in this real-time indie drama that takes place entirely within the confines of a car driving from London to Birmingham. You'd be forgiven for not thinking that sounds too thrilling, but the reviews are genuinely solid and excited. The Hollywood Reporter called it "a virtuoso narrative and technical experiment that doesn't stint on dramatic complexity or heart." (Regal Arbor, Violet Crown Cinema)
Million Dollar Arm - Speaking of Mad Men, this sports biopic stars Jon Hamm as a sports agent who travels to India to discover baseball pitchers who are competing on a reality show to recruit them for major-league baseball. Directed by Craig Gillespie (Lars and the Real Girl), reviews are squarely down the middle for this family-friendly Disney flick. (wide)