AFS Series Preview: Lars Nilsen on 'Rebel Rebel'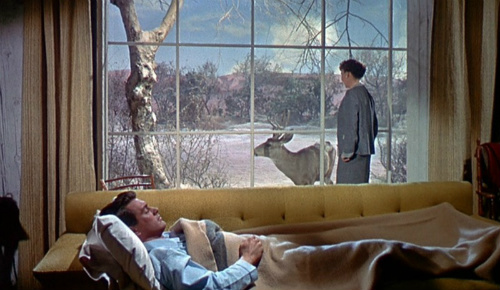 Austin Film Society recently released the schedule for their next film series, "Rebel Rebel." Douglas Sirk's classic All That Heaven Allows and a 1974 John Waters film are among the five titles to be screened at AFS at the Marchesa starting Friday. To get a little more insight into the reasoning behind this series and how the chosen movies fit with the theme, I emailed Lars Nilsen, AFS Programmer.
Slackerwood: What led you to this theme of programming?
Nilsen: As much as I like doing series focusing on one director or actor or on the films of this or that country, I also like variety and the catch-all nature of a series about Rebellion or about Cool allows us to show a package of really spectacular films that might not be shown under any other context. I also think it's important that we as an arts organization celebrate rebellion because it is one of the mainsprings of our character, and I want to perpetuate the concept of rebelliousness wherever I can. It's maybe the only thing that can save our world.
How did you select the films for Rebel Rebel?
Nilsen: I thought about it for a long time and rewatched different films with an eye towards applicability to the series. I drove one of our interns crazy because I kept changing the titles on the calendar up until the day we sent it to the designer. I think the final mix is pretty solid. Every movie is a stone killer and they represent a broad base of appeal.
Which of the films are you most excited about screening for an Austin audience?
Nilsen: I think I am most excited about the new print of Emma Mae. But Getting Straight is a close second. I don't think anybody anywhere has screened Getting Straight in decades. It's a movie that deserves a better reputation.
Here are the movies in the "Rebel Rebel" series (all 35mm prints), with more thoughts from Nilsen:
Burn!, 1969
Fri, May 23 & Sun, May 25 [tickets]
Marlon Brando stars as Sir William Walker, sent to instigate slave unrest in a Portuguese colony, only to return to quell that same unrest 10 years later. Nilsen says Burn! "may be ideologically problematic, since it is a pretty damning allegory of U.S. foreign policy, even though it is ostensibly about British and Portuguese colonizers. It just works so well as political intrigue, an epic action film, and a close-up character study, with that character portrayed by maybe the greatest screen actor we have ever seen, Marlon Brando. It's kind of a secret, hip classic that some of us share."
All That Heaven Allows, 1955 (pictured at top)
Fri, May 30 & Sun, June 1 [tickets]
This Sirk melodrama is about a middle-age society widow (Jane Wyman) who falls for a lower-middle-class landscaper (Rock Hudson) -- who happens to be younger, to boot. Nilsen: "In a lot of ways it is about the cost of rebellion... As Wyman becomes more entranced with the freedom of her new life, the forces of conformity marshal against her. This film has been loved and paid homage to by such heavies as Fassbinder, John Waters and Todd Haynes. Its ending will destroy you." This one should be lovely to watch on the big screen.
Getting Straight, 1970
Fri, June 6 & Sun, June 8 [tickets]
Elliott Gould stars as Harry Bailey, a Vietnam vet returning to school to get his master's degree; Candice Bergen is featured as his girlfriend, Jan. Nilsen calls it "the best movie about '60s campus unrest in the U.S. It is a black comedy, naturally... As the man in the middle, between the riot-happy students and the unbending administration, [Elliott Gould's character] tries to be the voice of reason, which eventually proves to be too demanding a task for anyone. Gould's big subsequent freakout scene is a tour-de-force of over-the-top acting. Getting Straight, in addition to all its other merits, has the best campus riot scenes ever filmed, choreographed by Chuck Bail. You will feel like you've been in the middle of it all. It's directed by Richard Rush (The Stunt Man, Freebie and The Bean) and photographed by Laszlo Kovacs."
Emma Mae, 1976
Fri, June 12 & Sun, June 15 [tickets]
A new 35mm print of this movie will be shown, courtesy of UCLA and the director's family. Emma Mae is the second film that director Jamaa Fanaka made as a student at UCLA film school. Nilsen says, "He made three features as a student at UCLA and all three of them were distributed nationally. The third one, Penitentiary, was one of the biggest grossing films of the year it came out. Emma Mae is about a teenager from Alabama who moves in with her aunt and uncle in South Central Los Angeles. At first it is a fish-out-of-water story, but as Emma Mae becomes more adept at big city life she also runs afoul of the law. I've never heard better, more natural black dialogue in a commercial film. It's smart, funny, moving, and by the end of the film you will be so emotionally invested in Emma Mae that you will stand up and cheer her final fight."
Female Trouble, 1974
Fri, June 27 & Sun, June 29 [tickets]
John Waters directs his muse Divine in this raunchy comedy. Nilsen comments that the director's early works "must have just seemed like the rudest assaults on everyone. Female Trouble is a really heavy-duty offender. It is also hysterically funny. Divine plays a teenage girl who gets pregnant and runs away from home. Her odyssey of sleaze takes her as far into the heart of sleaziness as you would (or would not) care to imagine. This one is just fun. You might not want to bring your mom and dad to this -- but you might!"
[Still from The New Inquiry]