HCFF Review: Intramural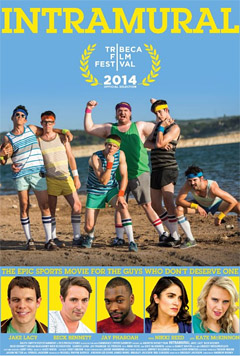 Normally I would not pay much attention to a movie about college guys bonding over sports, especially football. We get more than enough football here in Texas if you are not a fan. But Intramural lured me in -- shot in Austin; directed by Andrew Disney, who showed a nice touch with humor in his previous film Searching for Sonny; written by Bradley Jackson (The Man Who Never Cried). In fact, Jackson pretty much convinced Disney to direct Intramural during Hill Country Film Festival 2012 (after meeting him at Austin Film Festival -- this is why filmmakers should go to film fests), so it felt like a can't-miss as the HCFF closing-night film.
It turns out that Intramural is pretty damn funny, even for middle-age women who don't subscribe to the Texas Cult of Football. The plot is fairly standard -- a bunch of fifth-year college seniors (apparently this is a thing now) decide to get the band, er, intramural team back together for one last hoorah before they graduate. The guys had a championship team in their freshman year that was Marked By Trauma -- yes, it sounds a lot like a combination of Pitch Perfect and The Bad News Bears.
In fact, Intramural is more than aware that it is following in the footsteps of many sports-genre films. One character even gets all Abed (gratuitous Community reference, sorry) about it and makes specific things happen so they will go from underdogs to champions just like teams in sports films -- demanding a training montage, for example.
The characters tend to be types -- even the main character, Caleb (Jake Lacy) is your typical Average Guy In a World of Quirky-to-Bizarre People. His fiancee Vicki (Kate McKinnon) is absolutely insane, and one reason Caleb reunites the intramural football team is to get a breather from her plans and ambitions for him. Then you've got the Nemesis Team, led by evil Dick (Beck Bennett); victim-turned-passionate-coach (Nick Kocher); and the vivacious Cool Chick Who Loves Sports (Nikki Reed). Austin film fans will get a kick out of Sam Eidson as a stereotypical big football lug with an unexpected side talent that had the audience howling.
The cast takes their roles and runs with them. Lacy plays it straight and has a marvelous talent for understated reactions, not an easy thing to accomplish in a sea of over-the-top characters. McKinnon goes entirely in the other direction and makes a completely unpalatable character funny. Bennett, well, best seen to be understood. "Color commentators" Bill and Dan (D.C. Pierson and Jay Pharoah) are a little bit Jay-and-Silent-Bob-stoner like (except they both speak), but are funny enough to get away with it.
Interestingly enough, one source of the film's comedy is supposed to be women doing things that are uncharacteristic for their gender: a girlfriend proposing to a boyfriend, a team of female football players (played by Austin Outlaws team members) who are more aggressive than the men. I suppose we are supposed to find that funny a la Destry Rides Again; but as with that movie, I could only admire and applaud the female characters involved, despite intentions. In fact, now I'm wondering how young/strong you have to be to play women's football (yeah, I know ... I gave up on my rollerderby dreams too).
Intramural is hardly subtle. Disney and Jackson are trying to play bro comedy with the big bros. And much like the characters in their film, their underdog low-budget team works far more effectively than anything Adam Sandler's touched in the past 10 years. The film clocks in at 100 minutes, giving it an edge over the Apatow crowd. I ended up watching part of Talladega Nights in my hotel room that night after Intramural and it's more along those lines -- less broad, more charming and personal, grounded by Lacy and Reed.
Between Intramural, reading about the Austin Outlaws, and watching Michael Sam's draft/kiss, I might actually get more interested in football. Then again, if Altman's MASH didn't do it, nothing will. I've heard nothing yet on distribution plans for Intramural, but I hope it hits Austin soon, and I'll let you know if I hear anything. I also have an interview with Disney, Jackson and Lacy to publish, probably when the movie screens locally.
PS: Stay through the credits.
Austin connections: Intramural was shot in Austin (Frost Bank building shot!) and nearby Central Texas with a primarily local crew and supporting cast, which includes Eidson, Gabriel Luna, John Merriman and Byron Brown.