Lone Star Cinema: The Trip to Bountiful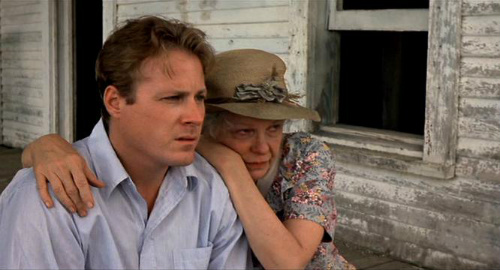 Horton Foote's The Trip to Bountiful illustrates that you can't go home again. Since it was first performed in 1953, the play remains a favorite for stage performance. Indeed, a recent Broadway revival starred a cast of Cicely Tyson, Vanessa Williams and Cuba Gooding, Jr. and was even made into a TV movie for Lifetime earlier this year.
But for many years, Foote resisted the idea of bringing his play to the silver screen. Director Peter Masterson was able to convince the Texan writer. Esteemed actress Geraldine Page (Sweet Bird of Youth, Hondo) went on to win an Oscar for her lead role of Carrie Watts in the resulting 1985 movie.
Mrs. Watts, a 60-year-old widow, lives in a one-bedroom apartment in Houston with her son Ludie (John Heard, Home Alone, My Fellow Americans) and daughter-in-law Jessie Mae (Carlin Glynn, Sixteen Candles, Three Days of the Condor). She fondly remembers days back at her home farm in Bountiful. In her current situation, Jessie Mae and Carrie bicker over the elder woman's near-constant hymn-singing and other habits. Compared to the space Mrs. Watts once had, the apartment is confining.
She pockets her pension check and leaves one morning while Jessie Mae is out, determined to travel back to Bountiful (a fictional town somewhere in south Texas). She befriends a young military wife (Rebecca DeMornay, demure and composed in her '50s era ensemble) on the journey and confides in her on a bus ride.
The opening credits sequence of a mother and child running through a field of bluebonnets leaves no doubt about the Texas setting of The Trip to Bountiful, and the costuming and set design perfectly reflect the time period. Page has a frumpy and careless appearance about her in the role to represent Mrs. Watts' single mindedness. All she wants to do is go home... but unfortunately just returning to a place can't bring back past people or events.
Page as Mrs. Watts is almost constantly on the verge of tears; recalling memories of her son as a boy or failed relationships causes a choked tone to enter her voice. Carrie also has episodes related to heart problems (probably a double meaning, there) that leave her light-headed and dizzy.
The Trip to Bountiful comes off like a filmed stage play in the beginning apartment scenes, but as Mrs. Watts leaves those rooms, the film widens its scope. Masterson's direction and Foote's script give Page an opportunity to show her impressive talent, and she doesn't disappoint.
Texas connections: Writer Horton Foote was from Texas. The Trip to Bountiful was shot in Ellis County/Waxahachie, Venus and Dallas. Richard Bradford, who plays the sheriff, was born in Tyler. Kevin Cooney, who appears as a bus station worker, is from Houston. Director Peter Masterson, a native of Houston, also wrote the screenplay for The Best Little Whorehouse in Texas.
[Still via MovieClips]