Film on Tap: The Craft Beer Explosion Continues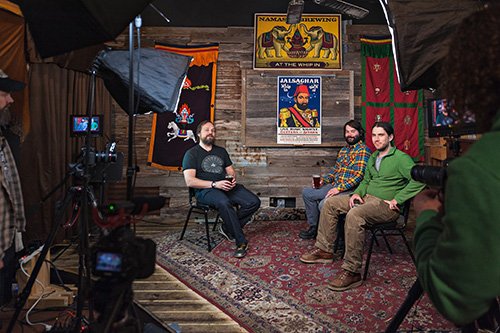 It's difficult to even begin to describe the phenomenal growth and activity in the craft beer industry this year, but it's evident from the number of selections on tap and on retailers' shelves that craft brewing is booming. As the number of Texas craft breweries increases, existing ones are prospering with brewery expansions and new beer offerings.
Filmmaker Mike Mann (Brewed) and host Greg Zeschuk have been documenting and sharing stories from many of these Texas breweries through their ongoing web series, The Beer Diaries. Zeschuk recently visited the brewers of Kamala Brewing at the Whip In (pictured at top), an award-winning brewpub here in Austin.
Another recent episode features the first cooperatively owned and managed brewpub in the world, Black Star Co-op Pub and Brewery, and an upcoming show takes viewers behind the scenes of the Spoetzl Brewery in Shiner. Check out one of my favorites below featuring Live Oak Brewing Company founder Chip McElroy.
The filmmakers behind the documentary Crafting a Nation, which features craft breweries across the U.S. including several here in Central Texas, are busy with their latest documentary project, Pushing Cadence. Director Tom Kolicko, executive producer Courtney Cobb and director of photography Brendan Harris are collaborating again on a film about members of the craft beer community in Austin and beyond.
Last fall I spent several days as part of the film crew during the 1400 Miles trek from Austin to Denver, following North by Northwest Restaurant and Brewery founder Davis Tucker as he rode his bike in honor of his brewmaster Don Thompson. Tucker was motivated by Thompson's battle and recovery from prostate cancer to take on this journey to raise awareness and get men -- and their families and loved ones -- to talk and act about prostrate cancer and its prevention.
Watch the recently released 1400 Miles trailer below:
The 1400 Miles team is currently planning an even bigger ride and more events along the way to the Great American Beer Festival. Check back for more news on this film, which will begin its journey in September.
Alamo Drafthouse announced last week that the beer program for the South Lamar location will feature selections from 18 breweries from Texas, including local favorites (512) IPA, Live Oak Hefeweizen, Independence Austin Amber and Austin Beerworks Pearlsnap Pils. Offerings from some of the newer breweries include Infamous Hijack, Grapevine Sir Williams and Revolver Blood and Honey.
When it reopens this late summer/fall, Alamo South Lamar will also feature selections from a couple of my favorite out-of-state breweries: Odell Brewing (Fort Collins, CO) and another brewery I enjoyed immensely on a recent visit to Grand Rapids, Michigan for the annual National Homebrewers Conference, Founders Brewing. Be sure to check out Founders Red's Rye IPA at the South Lamar grand opening.
Flix Brewhouse in Round Rock is offering a Beer 101 course on Saturday, July 19 at 11 am, and includes a brewery tour and four 12-ounce pours. The tour features a Flix spotlight beer, where participants will learn about the ingredients and process behind the beer. A food and beer pairing will begin at HomeField Grill immediately following the brewery tour. Along with the brewery tour and tapas-style food pairing, attendees also receive a Beer 101 t-shirt and a special beer glass.
[Photo credit: "Kamala Brewing at the Whip In," courtesy of Mike Mann of The Beer Diaries]