Cine Las Americas 2014: Closing Weekend
My schedule unfortunately prevented me from seeing everything that I wanted at Cine Las Americas (CLAIFF) last weekend, but I was still able to catch films here and there. Saturday morning took me to Alamo Drafthouse Village for Bobô, a Portugese film from writer/director Inês Oliveira. The movie is about Sofia, who has nothing in her life but the memories of her deceased brother and son. Things change when her mother sends her Mariama, a maid who helps make Sofia's life a little easier. The more these two women get to know one another, the more their friendship blossoms, each helping the other in a way they didn't think possible.
It was refreshing to see such a female-driven film, particularly in the writing. I have to hand it to CLAIFF for saluting female filmmakers during this festival, both in their programming and celebration of film. I was able to attend their Women In Film party on Saturday night, and was so excited to talk with fest staff members Keeley Steenson and Jean Lauer. We not only discussed the films we'd seen during the festival, we also talked about our views on female representation in Latino culture. It certainly made for a fun and educational Saturday night (two words I don't often combine to describe a Saturday night.)
Sunday took me over to the Marchesa Theater for the Hecho En Tejas Short Film Showcase. The series kicked off with Mario Pena's local premiere of The Book of Joe and was followed by some exceptional shorts made here in Austin and around Texas. The screening was followed by a Q&A with several representatives of each film (pictured below). The filmmakers discussed the pros and cons to filming here in Texas (mostly pros, it seemed), as well as what it took to bring these stories to life. It was a nice reminder that all films, no matter how long, are works of art that take an incredible amount of time and dedication.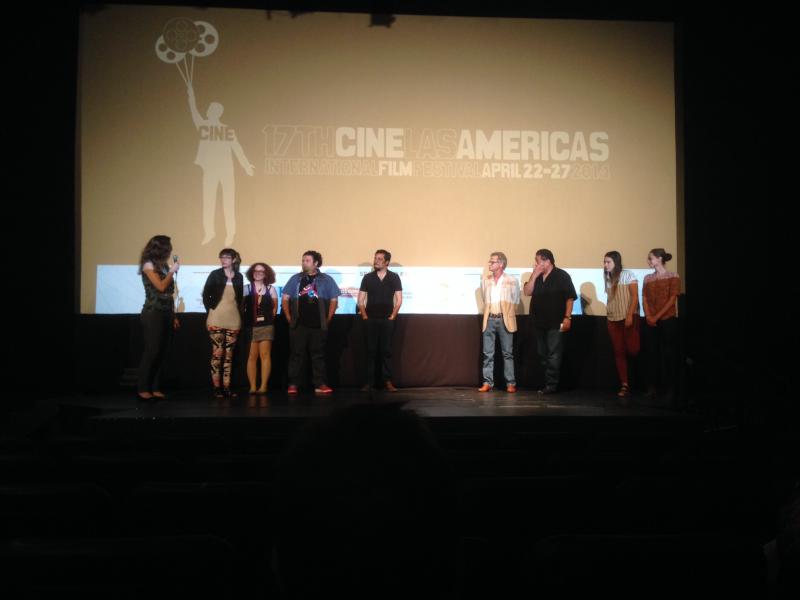 The evening took me back to the fest for the closing-night film, Pelo Malo (Bad Hair). Having just opened in New York City, the film has played at many festivals around the world, including Toronto and San Sebastian Film Festival. Set in Venezuela, we meet Junior, a 9-year-old boy who wants straight hair for his school photo. What seems like an innocent request starts to stir trouble in his household as his mother believes this is causing him to be gay. Although light hearted, this film had incredibly dark undertones dealing with single-parent households, poverty and views on homosexuality. A very dark but strong film, I could see why the staff chose this to close the festival.
I'm not sure if I've made smarter viewing choices this festival, or if the quality of films made this past year are just above average. Whatever it is, I have to tell you all that every film I've seen at Cine Las Americas this year has blown my mind. Rarely have I attended a festival where I wanted to see so many films again and again. I've found myself reflecting on them, thinking of how all of these stories are one-of-a-kind. Kudos to the Cine staff and programming team -- I thoroughly enjoyed CLAIFF 2014.