World War I Series Combines Forces of Ransom Center, AFS and Paramount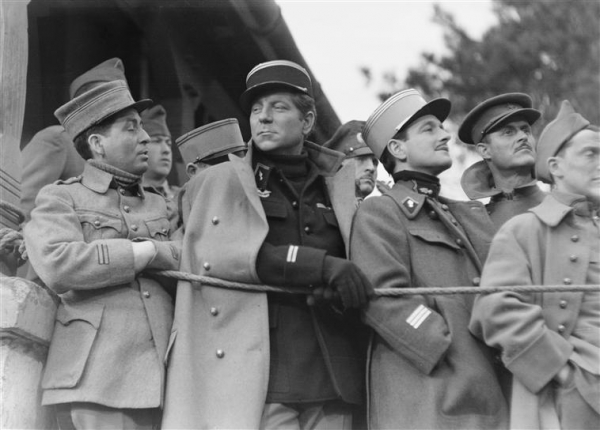 100 years after the start of World War I, three Austin organizations are teaming up to showcase cinema of or about the conflict. The Paramount Theatre and Austin Film Society are joining the University of Texas Harry Ransom Center, which is holding the current exhibition "The World at War, 1914-1918," to host a combined total of 13 films running May through July.
The screenings at the Ransom Center are free (bear in mind it's not a large theater), but tickets are required for the AFS at the Marchesa and Paramount/Stateside shows. Here's the schedule, which concludes with Lawrence of Arabia shown in 70mm:
Mon, May 5, 7 pm, Stateside at Paramount
Grand Illusion (pictured above), 1937 [tickets]
This moving French classic from director Jean Renoir features Jean Gabin among others at a German POW camp. Screens as a double feature with L'Atalante as part of Paramount's 100th birthday celebration.
Thurs, May 8, 7 pm, Ransom Center
Shoulder Arms, 1918 (free, but seating is limited)
Charlie Chaplin goes to war in France. Written/directed by Chaplin.
Thurs, May 15, 7 pm, Ransom Center
All Quiet on the Western Front, 1930 (free, but seating is limited)
Lew Ayres, who would later file conscientious objector status during WWII (before serving as a noncombat medic for four years), stars as German soldier Paul in Lewis Milestone's adaptation of Erich Remarque's novel.
Thurs, May 22, 7 pm, Ransom Center
A Farewell to Arms, 1932 (free, but seating is limited)
Based on Hemingway's novel, Frank Borzage's film stars Gary Cooper and Helen Hayes as an ambulance driver and nurse who fall in love in Italy during the war.
Thurs, May 29, 7 pm, Ransom Center
Sergeant York, 1941 (free, but seating is limited)
A 40-year-old Gary Cooper portrays Alvin C. York, the young West Virginian man who filed as a conscientious objector in WWI but went on to receive the Medal of Honor for his outstanding service. Cooper won an Oscar for his performance in this Howard Hawks film.
Thurs, June 5, 7:30 pm, AFS at the Marchesa
The Life and Death of Colonel Blimp, 1943 [tickets]
Powell & Pressburger, the team behind The Red Shoes and Black Narcissus, bring to life this original story titled after a British comic-strip character. Deborah Kerr plays three different roles throughout Major-General Candy's (Roger Livesey, I Know Where I'm Going!) life in the military.
Thurs, June 12, 7:30 pm, AFS at the Marchesa
Paths of Glory, 1957 [tickets]
This anti-war drama from Stanley Kubrick stars Kirk Douglas as a unit-commander in the French military. [Jette says you really want to see this, and if you've seen it already, you really want to see it again with an audience. Put it on the calendar now.]
Thurs, June 19, 7:30, AFS at the Marchesa
Jules and Jim, 1962 [tickets]
Truffaut's French new wave classic depicts years in the lives of two friends and their relationships with Catherine (Jeanne Moreau) over the years. [Jette theorizes that Catherine was one of the originial Manic Pixie Dream Girls.]
Thurs, June 26, 7:30 pm, AFS at the Marchesa
J'accuse, 1919
Abel Gance's drama blends romance with the horrors of war. The director filmed footage at actual battle scenes in 1918 for usage in his film.
Thurs, July 10, 7 pm, Paramount Theatre
The African Queen, 1951
Humphrey Bogart and Katharine Hepburn star in John Huston's film about a spinster and riverboat captain who fall in love and choose to take on a German warship in WWI. Filmed on location in Uganda and DRC.
Thurs, July 10, 9 pm, Paramount Theatre (a double feature with African Queen)
Gallipoli, 1981
Peter Weir's film focuses on two young Australian soldiers (Mel Gibson and Mark Lee) who participate in the Gallipoli campaign in Turkey.
Fri, July 11, 7 pm, Stateside at Paramount
The Big Parade, 1925
John Gilbert stars in King Vidor's silent film about a wealthy American who is sent to France during the war and falls for a French farmgirl.
Sat, July 12 - Sun, July 13, multiple showings, Paramount Theatre
Lawrence of Arabia, 1962
David Lean's lush epic, which made Peter O'Toole a star, depicts the work of T. E. Lawrence in sections of the Middle East during the conflict. I caught the most recent 70mm screening of the film at the Paramount, and I could almost feel the grit of the sand in my eyes.
The Ransom Center has more about the scheduled programming here.
[Still from MUBI]