Cine Las Americas 2014: Chicano Love and a Map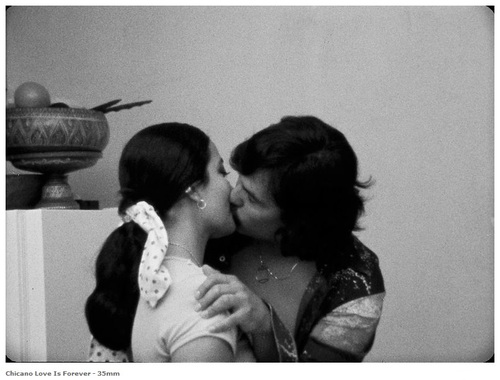 My second day of Cine Las Americas took me to the Marchesa Theatre. I caught Amor chicano es para siempre (Chicano Love Is Forever), the second film of the three part series "Las Filmas: The Films of Efraín Gutiérrez." Considered to be one of the most influential filmmakers (if not the founder) of the Chicano film movement in the 70s, Gutiérrez's films explore what life was like for Latin American families during this time.
Set in San Antonio, Texas, the story follows a young Latino couple in their early years of marriage. What starts as a sweet, innocent romance slowly changes with the onset of work, college and marital stress. It takes its toll on our protagonist (Gutiérrez), but instead of turning to his wife for help, he seeks solace in beer, time away from home and the arms of another woman. Shot on 16mm film, the print shown was blown up to 35mm, making it the only 35mm screening this festival. (We were informed that this is the only known copy of this film, so that was also a treat.)
Gutiérrez was in attendance for a post-screening Q&A. When asked what inspired this piece, he said he was incredibly fascinated with the "mujer" (female) side to these "machismo" stories you so often hear about in Latino culture. The story told in Chicano Love is Forever is not an uncommon one but certainly wasn't being told on film in the 70s. Gutiérrez also told us about his struggle to make the movie from a financial standpoint, which made sense given the feature's jumpy and gritty nature. The third film in this series, Run, Tecato, Run, will screen at 4 pm Saturday at the Marchesa Theater.
The evening then took me back to the Village to see Mapa (Map). A video diary created by filmmaker León Siminiani, this film blurs the lines between narrative and documentary. I haven't seen this unique genre on the festival circuit for quite some time.
Siminiani is a former TV director who has just been fired from his job. Having spent most of his life creating what he calls "video diaries," he decides to try making a feature film about his travels to India. In search of enlightenment, he documents everything from his empty apartment all the way down to the crowded streets he roams. The film takes a personal turn when he starts to realize the importance of a certain woman in his life (who he refers to simply as "Luna"), and how their eventual relationship makes an impact on his movie.
Although I enjoyed the story, I found myself zoning out a few times when the filmmaker would get lost in his thoughts, particularly about Luna. I'm always one for a personal story, but sometimes it's necessary to let your audience into your head as well. It was still fascinating to follow his journey and see how his filmmaking process was a way for him to cope with the ups and downs of life.
I'm looking forward to what Cine Las Americas has to offer this weekend, particularly the Celebration of Women in Film party. Hope to see you around the fest!