Ready, Set, Fund: Texas Women Making Movies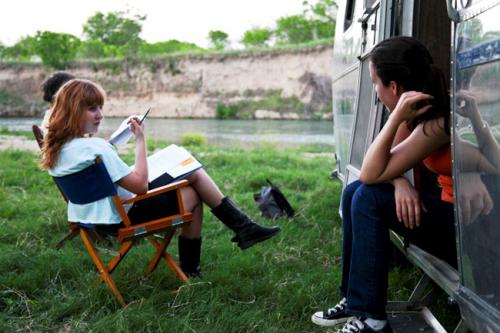 Ready, Set, Fund is a column about crowdfunding and fundraising endeavors related to Austin and Texas independent film projects.
This column has long been well nurtured and championed by Debbie, but moving forward you'll see other Slackerwood contributors pitching in to highlight various crowdfunding activities going on in the local film community. It's my pleasure to present this month's slate, which includes a few excellent projects spearheaded by women.
First up is a film-in-the-making called The Big Spoon. Currently seeking funds on Kickstarter, this "unromantic comedy" is planned to film in Austin this summer and will pull together several familiar names for its cast and crew. The project is also specifically dedicated to supporting the work of women in film and features a largely female production team.
The Big Spoon is co-written and (will be) directed by Carlyn Hudson (pictured above left), a University of Texas alum and short film director who co-produced Andrew Bujalski's Computer Chess as well as Richard Linklater's Hulu project Up to Speed. Hudson was also a segment director for Slacker 2011, and if you've ever attended Cinema East you'll recognize her as one of the series programmer/producers.
The Big Spoon is a relationship story focusing on two couples stuck living in a small house together as they try to figure out how you know when it's just not working ("it" being your romantic relationship and probably a few other things, too). Alex Karpovsky (Girls, Beeswax), Agustin Silva (Crystal Fairy & the Magical Cactus) and Mallory Culbert (Arlo and Julie) are set to star. Culbert, also a UT graduate, co-wrote The Big Spoon with Hudson, and both can be seen in the promo trailer below.
This week The Big Spoon was featured as a successful "Project of the Week" on Indiewire; it won the most reader votes and beat out three other films in answer to the question, "Which project do you most want to see?"
Funding continues through May 3 and they still have a little way to go, so if you'd like to see The Big Spoon, too, you better get over to Kickstarter.
Next up is a film called LaVernia, which is in the process of being shot (on 16mm film) in rural Texas. Written by, directed by and starring Ruthie Doyle, this narrative tells the story of EstherAnne, a Brooklyn dancer who returns to her hometown to attend her grandmother's funeral.
Doyle currently attends CalArts and is pursuing an MFA in film and video, however she grew up in Texas and her parents live in the town used as the story's setting. She describes the film as being about a queer woman, where "her subjective experience is the focus" and "her sexual orientation isn't a challenge."
The filmmaking team defies statistics in that it consists of several young queer women, and through the successful completion of this production they hope to do their part to counterbalance the fact that women of all kinds are currently vastly underrepresented in the filmmaking world.
You can donate to the LaVernia Kickstarter through May 7. (See the preview video below.)
In completion news, a few recent local projects have been successfully funded with the help of Kickstarter or Indiegogo. Watch for these standouts in the coming months to see how those donations ultimately translate to the screen.
About a year ago, Dan Siegelstein released a short film called People with Issues that went on to gain some positive buzz and a few Kevin Smith comparisons. (The full short can be seen here.) The original episode, which was shot in Austin and channeled the angst and uncertainty of what it's like to be a twentysomething in this town, will now be followed up with four additional shorts that explore the "further adventures" of the same characters. Siegelstein's project was successfully funded on Indiegogo this week and will begin shooting in mid-May.
Tower, a documentary, will mark the 50th anniversary of the University of Texas Tower shootings by featuring recollections from witnesses and survivors of the event. Directed by Keith Maitland (The Eyes of Me), produced by a strong team including Texas Monthly writer Pam Colloff, and executive produced by Luke Wilson, the project reached its $50,000 goal on Wednesday and is on track to begin production soon. Tower is expected to be released sometime next fall.
This last one is pretty timely (and exciting): Skunk, a short by UT radio-television-film MFA graduate Annie Silverstein, met its goal on Kickstarter last year, was subsequently completed, and has recently been chosen to screen at Cannes as a Cinéfondation (student film) selection. Catch the film yourself April 27 at the Longhorn Denius Film Showcase, which features the work of other top UT student filmmakers and is free and open to the public. Take a look at the preveiw below.
Have a project that you would like to be considered for an upcoming Ready, Set, Fund feature about crowdfunding and related fundraising endeavors for Austin and Texas independent film projects? Contact us with the subject line "Ready, Set, Fund."
[Photo credit: http://www.carlynhudson.com]