Review: The Railway Man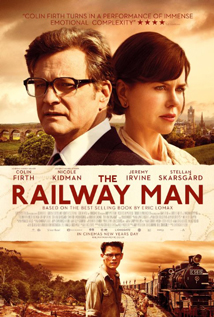 A particular subgenre I've enjoyed from an early age thanks to my father's influence is war movies, including the classics -- The Bridge on the River Kwai, Kelly's Heroes and The Dirty Dozen topped our list -- with a particular fondness for prisoner-of-war tales including Victory and Merry Christmas Mr. Lawrence. I find the stories of brave servicemen who overcome torturous emotional and physical conditions to be inspiring testaments to courage and bravery.
Directed by Jonathan Teplitzky, the movie The Railway Man portrays such a character, Eric Lomax (Colin Firth). It's based on the real-life story of a British army officer and radio engineer who was captured with his unit during the fall of Singapore in 1942. The prisoners of war were used to build the railroad from Burma to Siam through rough terrain, under brutal conditions.
The Railway Man begins with a chance encounter on a train between Eric Lomax and Patti Wallace portrayed by Nicole Kidman. After decades as a bachelor, Eric finds himself in love with the engaging Patti. After a whirlwind romance, they marry and settle into what would seem to be a quiet perfect life. However, Eric suffers from night terrors as he relives his wartime experiences including torture from Japanese officers, aided by their interpreter Nagase (Tanroh Ishida).
Patti seeks the aid of Eric's good friend Finlay (Stellan Skarsgard) to help her husband face his emotional demons -- not an easy task, as Finlay was also in Eric's unit and suffered from their captors' abuse. The men are bound by a code of silence, expected to endure and move on.
The story of their imprisonment is told in a series of extensive flashbacks with the young Eric (Jeremy Irvine) and a young Finlay (Sam Reid), nicknamed Uncle. Unbeknown to their captors, the men had smuggled in the parts to a radio which they reassemble in order to receive news from home. When the radio is discovered, Eric takes full blame and is subsequently tortured to confess what the Japanese believe is the true purpose for the radio.
The Railway Man is an evocative story that engages and moves viewers. Both actors who portray Eric Lomax deliver solid performances, with Firth demonstrating emotional pain and suffering and Irvine portraying bravery and physical pain. Similarly Skarsgard and Reid are well cast in their supporting roles. Kidman doesn't get much screen time in this film, but she sufficiently portrays the charm, grace and patience of a wife unwilling to accept that her husband may be beyond saving.
The final act of Eric discovering that Takashi Nagase is still alive strengthens the writing of The Railway Man, through the realistic and portrayal of men silently enduring the emotional pain of torture experienced so many decades before.
The cinematography of The Railway Man is superb, from the picturesque train stations to the bleak rainswept beaches, to the lush jungles of Burma. The British POWs' experience is intensified by closer shots, from the railway cars the prisoners are transferred in to the close quarters of their sleeping and work environment.
Where The Railway Man suffers is in exposition and editing -- the more contemporary timeline was compressed to speed up the film, which takes away from the realism of the story. In reality, Eric Lomax and Patti Wallace did not marry until three years after they first met. Eric did not discover that Takashi Nagase was still alive until 1993, finally meeting in 1995.
The Railway Man is a touching and thought-provoking tale of suffering, endurance and forgiveness. Eric Lomax's story transcends time and reminds us that war can leave unseen wounds and scars that are often deeper than physical ones.