Dallas IFF Review: Produce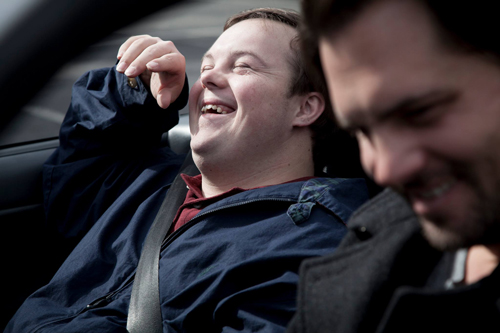 Filmmaker Chris Dowling, an alumnus of the radio-TV-film program at The University of Texas at Austin, wrote and directed family drama Produce, which debuted at the Dallas International Film Festival last week. Although this film deals with some heavy-hearted issues, overall Produce is an engaging and entertaining story that should please viewers.
The opening sequence of a morning routine of breakfast, shower and a bike commute to work at first appears typical, until the camera angle widens and we see the character simply known as Produce (David DeSanctis), who has Down's Syndrome. It's this foundation that sets an important plot point for the film -- Produce is not defined by his condition despite the challenges and prejudices that he faces daily. He wants nothing more than to be employee of the month at the Value Market where he works as a produce clerk. Sadly his manager and co-workers don't respect him or appreciate his strengths.
The character who's the most challenged in Produce is Calvin Campbell (Kristoffer Polaha), a former professional baseball player who choked during a game and numbs his shame with alcohol. The real adult in the house is his daughter, 17-year-old Katie (McKaley Miller), often left to fend for herself while her dad is out drinking with his booze buddies. Calvin's self-destructive behavior threatens his relationship with his daughter, as well as a potential career as a baseball manager.
The cast of Produce delivers great performances. DeSanctis was delightfully witty and charming as Produce, with amusing and dynamic interactions with co-star Polaha. Dallasite Miller appears to quite effortlessly exude a natural talent in her role as Katie. Supporting cast members include Danica McKellar and William Zabka.
One minor criticism is that the handheld cinematography in the opening sequence and first act was a bit distracting, but once the narrative picks up the pace it's not as noticeable. Dowling noted during the Q&A that he decided on handheld cinematography and "keep moving" to give it an indie feel -- something uncommon in most faith-based films.
Dowling also stated that he wanted to make a film that he would want to see with his mom. However, note that several adult themes -- infidelity, alcoholism, threat of sexual assault -- mean that Produce isn't exactly a movie for the entire family. A tragic event in the final act also leaves viewers wondering whether Produce will survive the repercussive effects of more than one self-absorbed alcoholic.
I thought that it was interesting that Dowling describes Produce as a "faith journey" movie, as we see Produce's childlike faith touching and spreading to those around him. I was quite pleased that this spiritual theme is not heavy-handed like many faith-based films. The underlying theme that everyone is held accountable for their own actions, which have a ripple effect and impact others, is deftly addressed.
Produce is a subtle exposition of the philosophy that faith is often about having the courage to examine and change one's own behavior, and that scriptures can provide solace and guidance to those in need. Dowling gets this message across with a light touch rather than hitting the audience over the head with religion.
Watch the trailer for Produce below: