Dallas IFF Reviews: 'Tomato Republic' and 'Cowboys of Color'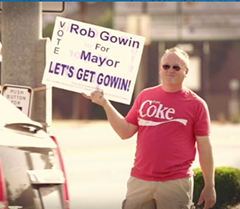 In the crumbling small town of Jacksonville, known as the Tomato Capital of Texas, a speeding train is coming -- not the frequent trains residents hear almost continually, but a heated mayoral race.
That's the premise of Tomato Republic, a documentary featurette that premiered at the 2014 Dallas International Film Festival (DIFF), where it won a special jury award. Directed by Jenna Jackson, Anthony Jackson and Whitney Graham Carter, Tomato Republic focuses on the mayoral race between three candidates -- incumbent Kenneth Melvin, outspoken restaurateur Rob Gowin, and Kenneth Melvin, the youngest candidate and first African-American to run for the (unpaid) office.
The town's colorful characters are the most engaging part of this film, whether it's the three candidates or the "Rusk Rocket Scientists," who hang out and gossip at local establishments.
I found myself most amused by the filmmaker and interviewees acknowledging the trains running past the town that would often interrupt the filming. When the trains run so often that football games and high-school graduations are impacted, it's ingenious to integrate that frequent occurrence into a documentary.
Overall Tomato Republic presents a well-balanced portrayal of all the candidates, but the final act doesn't quite fit the pacing of the rest of the movie. Still, the subtle ending is touching and leaves viewers with a sense of hope for the losing candidate we most get to know.
Watch the trailer for Tomato Republic below:
Dallas writer/director Coy Poitier and co-director Jacolby Percy won the Best Texas Film award at the Texas Black Film Festival for their documentary film series, Cowboys of Color: A Multi-Cultural Legacy, Volume 1, which also screened at DIFF.
Most people have heard legends of the Wild West -- Billy The Kid, Jesse James and Wyatt Earp -- but what about Bill Pickett, the father of "bulldogging," as well as contemporary cowboys including Cleo Hearn, Kenneth LeBlanc and Kevin Woodson? These are just a few of the black cowboys involved in preserving the legacy, whether at the Cowboys of Color Invitational Rodeo or through working a Texas ranch.
Cowboys of Color reveals that the word "cowboy" was actually meant as a derogatory word, referring to a black ranch hand. In the 1800s, one-third of all cowboys were black, in addition to cowboys of Mexican and Native American descent.
What the series lacks in production and art design, it makes up for with the story and editing. Although the title and chapter designs could be a bit more professional, the research put into this documentary appears quite extensive. Furthermore, I was quite engaged in the history as well as the interwoven dialogue with the younger generation, who are quite unaware that black cowboys exist. Screenwriters Poitier and Reis Myers McCormick did an excellent job with the writing.
Watch Poitier and Percy talk about the making and legacy of Cowboys of Color below: