Lone Star Cinema: An Unreal Dream: The Michael Morton Story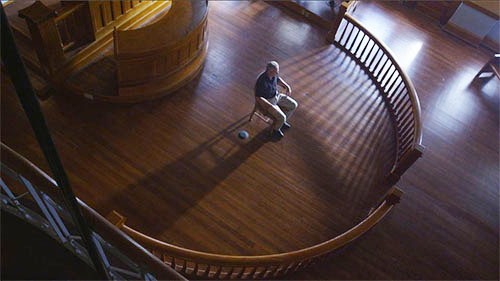 If you spent nearly 25 years in prison for a crime you didn't commit, would you be bitter?
Michael Morton isn't. Which is surprising, given that he was wrongly convicted of murdering his wife, spent almost 25 years behind bars and would remain there today if not for the tenacious attorneys who won his release.
Morton's frightening ordeal is the subject of An Unreal Dream: The Michael Morton Story, a moving 2013 documentary released on DVD April 1. More than just a recounting of Morton's astonishing and infuriating story, the film is a meditation on faith and redemption.
The film's title is based on a quote from United States Justice Learned Hand: "Our procedure has been always haunted by the ghost of the innocent man convicted. It is an unreal dream." But "an unreal dream" is too tepid a description of Morton's suffering; his story is in every way a nightmare.
In 1986, Morton's wife, Chris, was beaten to death in their Williamson County, Texas home in front of their 3-year-old son, Eric. Although Morton insisted Chris was killed while he was at work, he was convicted of her murder and sentenced to life in prison. His conviction stemmed from now-discredited forensic evidence and the very persuasive -- but completely specious -- arguments of Ken Anderson, Williamson County's ambitious district attorney at the time.
Morton's attorney, Bill Allison, never doubted his client's innocence. But as the years went by, Morton all but gave up hope that Allison could free him. His time in the notorious Texas prison system began to take a heavy toll, although he found solace in his friendships with other inmates, his pursuit of two college degrees and his regular visits with his son. But eventually Eric cut off all contact with his father. (Too young to remember the details of his mother's murder, he grew up believing his father had killed her.)
Morton's fortunes changed in 2002, however, when Allison referred his case to the Innocence Project, a New York-based organization dedicated to exonerating the wrongly convicted and reforming the criminal justice system. Working with Texas attorney John Raley, the Innocence Project finally cleared Morton in 2011 thanks to DNA testing that linked the murder to another convicted felon. The group also proved Anderson withheld evidence that would have exonerated Morton.
An Unreal Dream tells Morton's story with great humanity and sensitivity, focusing on Morton's personal journey while implicitly condemning the corrupt Williamson Country officials who all but ruined his life. Filmmakers Al Reinert, John Dean and Nellie Gonzalez use a simple, straightforward style to great effect. Their formula is a poignant mix of interviews, archival news footage, old photos and Morton's eloquent storytelling (he tells his story while sitting in the empty courtroom where he was convicted), all of which create an intimate portrait of an anguished man coping with a surreal and unthinkable fate. A tale as astounding as this one needs little film-school embellishment to pack an emotional punch.
Morton's faith also plays a major role in An Unreal Dream, and the film's optimistic tone reflects his belief in the Christian notion of forgiveness. From his claim of a prison cell encounter with God (he describes it as a golden light and feelings of "pure bliss" and reassurance) to his somewhat astounding compassion for those who wronged him, Morton credits his philosophical view of the situation to his religious beliefs. After his release from prison, he did not seek revenge; he asked for justice for Anderson -- still mostly unrepentant 25 years after prosecuting Morton -- but felt no bitterness toward him. An Unreal Dream portrays Morton as an admirably charitable and gentle soul.
If An Unreal Dream is simple in style, its implications are more complex. It would be easy to tell Morton's story in simplistic good-vs.-evil terms, as a moralizing story of an innocent man who battles a corrupt system, wins his freedom and watches the bad guys get their comeuppance. But of course the story isn't so simple. Justice isn't an exact science, and an obvious miscarriage of justice isn't always obvious, as we hear from two earnest jurors who sincerely (and regrettably) believed Morton was guilty. And while Anderson isn't a sympathetic figure, An Unreal Dream tells us he worked within a system that fiercely protects district attorneys and judges them on their rates of conviction.
If An Unreal Dream has a message, it's that a person can gain strength and understanding from dealing with the direst of circumstances. Morton certainly did -- and also learned a lot about justice from his experience. But wrongful convictions keep happening, which leads to An Unreal Dream's fundamental question: Morton learned a lot about our justice system; has our justice system learned anything from Morton and so many others like him?
DVD features: The An Unreal Dream DVD includes some interesting extras. Don't miss the highlights from Anderson's court of inquiry and plea deal hearing, which reveal much about him and his attitude toward his job. (Anderson later became a judge, but his legal career is over. He was disbarred for his misconduct in Morton's trial.)
Also very interesting is a Q&A with Reinert, Raley and Morton at the Houston Cinema Arts Festival. (The Q&A reveals that Texas prison officials were not very cooperative with Reinert. As they say in Texas, quelle surprise.) Less interesting are highlights from the film's SXSW 2013 world premiere (they're mostly gushing quotes from reviews and interviews with fans of the film) and a rather hokey music video of "Whispering Hope," a song about Morton performed by Tina Wilkins and Jimmy LaFave.
Austin/Texas connections: An Unreal Dream was filmed with a mostly local crew in the Austin area. The film's world premiere was at SXSW 2013, where it won an Audience Award. Michael Morton now lives in the Kilgore/Longview area. Al Reinert lives in Wimberly. Nellie Gonzalez is from Houston. John Dean lives in Kerrville. Other producers live in Austin, including Joshua Riehl, John Aldrich, Jason Wehling (Good Night, Saturday Morning Massacre) and the filmmakers behind another Texas political doc, The Least of These -- Clark and Jesse Lyda and Marcy Garriott. Venerable composer and Austin film community member Chuck Pinnell co-wrote the score with Austin musician Rich Brotherton.