AFS Doc Nights Preview: Blood Brother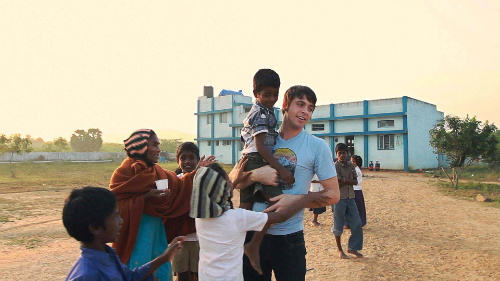 Blood Brother, which Austin Film Society will screen Tuesday evening at the Marchesa as part of the Doc Nights series, is very obviously a labor of love. Filmmaker Steve Hoover travelled to India with his best friend Rocky Braat, who was returning after a short break to his work volunteering at a rural hostel for mothers and children with HIV/AIDS. For a few months, the director documented the daily life of his friend and the kids he serves.
The documentary may sound at first like a white-guy-goes-to-a-developing-country-to-do-good story (it kind of is one, literally), particularly when Rocky says things like he went to India "seeking authenticity." But Blood Brother is a layered film, and goes far deeper than this initial premise. The film kicks off in medias res, with an older man clutching a near-lifeless child to his chest; Rocky and others are shown racing to take the girl to the hospital. In this manner, Blood Brother grabs your attention from the start. Later on, the viewer learns more about these events and the people involved.
Hoover narrates to explain parts of Rocky's biography, with faces from his childhood in Pennsylvania to his current life in the south Indian countryside. The larger theme of Blood Brother is one of family and building community. Although Rocky is no longer close (geographically or any other way) to his biological family, he has created a family of sorts with the children in the home. The kids climb on him, comfort him, and call him "Rocky-anna" (Rocky-brother). He dates an Indian woman and hopes to start his own family someday. In the most difficult sequence of the film to watch, he spends days caring for a child when severe illness strikes and sends the kid to hospital. The director himself is a character; the strong affection between the two friends is visible.
Most of Blood Brother was shot with a very small crew, but Hoover is able to pull off some beautiful technical work. The intrinsic motion to the panning shots is an especially nice effect. The animated story at the opening credits allows the viewer insight into Rocky's personality as a child, giving what could have been a sorrowful tale a sense of blitheness. A reality-show vibe (that's the only way I can describe the forced feeling) sneaks in at times, but doesn't overtake the documentary.
I worried that the tone of the film would be patronizing toward the Indian citizens, but Hoover treats the children and villagers with dignity and allows their different personalities to shine. Hoover also conveys Rocky's complicated personality well.
Watch the trailer below:
[Still via Blood Brother on Facebook]