Dallas IFF 2014: On the Red Carpet with 'Words and Pictures'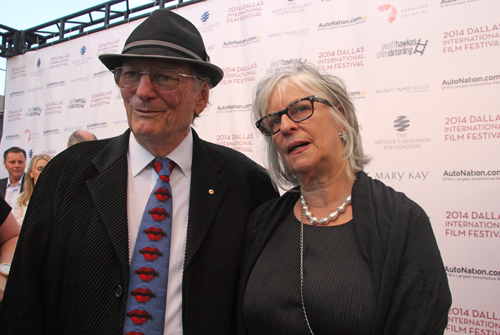 The 2014 Dallas International Film Festival (DIFF) opened last week with the premiere of Words and Pictures, a lovely comedic drama starring Juliette Binoche and Clive Owen as teachers at a prestigious academy who go head-to-head over the timeless literary vs. artistic debate.
As it's shot in Vancouver by Australian director Fred Schepisi and features big-name and critically acclaimed stars, this movie's Texas connection may not be obvious at first. However, Schepisi -- pictured above with his wife and "muse" Mary Schepisi -- proclaims a strong bond to the Lone Star State because his first American film Barbarosa, starring Willie Nelson and Gary Busey, was filmed in west Texas in 1982.
Schepisi quipped during the Q&A that "Texas is the one state that has the same sense of humor as Australia -- I feel sorry for you," but spoke highly of the support from Dallas. Words and Pictures would not have been possible without its producers, who are mostly Dallas-based private investors including Curtis Burch, Derrick Evers and Bob and Judy Gass.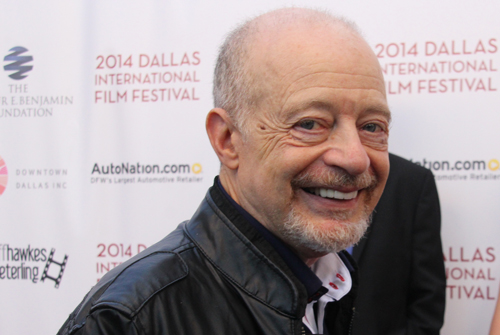 Words and Pictures producer and screenwriter Gerald Di Pego (pictured above) was also in attendance, and I enjoyed speaking to him both on the red carpet and later at the opening reception at the Crow Collection of Asian Art. I thoroughly enjoyed the witty banter and eloquent dialogue of Di Pego's writing.
Regarding his inspiration for the Words and Pictures screenplay, Di Pego said "I love the language -- I think most writers do -- and I wanted to challenge myself to elevate the language that I usually write with. To write about sophisticated, learned people, and push my language upward and get them going in a humorous battle with each other."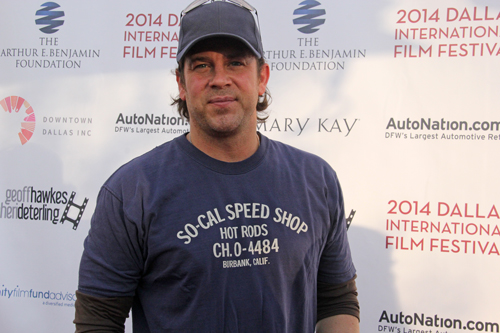 DIFF red carpet experiences are much different from other festivals, which typically feature cast and crew from that day's premiere screenings. However, special guests including talent from other films not screening at this festival may show up here, for example 50 to 1 star Christian Kane (Leverage), as seen above.
50 to 1, which also stars Skeet Ulrich, opened last week in local theaters, and is about a group of New Mexican cowboys who defy the odds to win the Kentucky Derby with a crooked-foot racehorse. Kane portrays real-life Mark Allen, one of the horse's owners, along with veteran actor William Devane as co-owner Leonard Doc Blach.
Actor Dominic Rains (pictured above) also showed up to promote his film Jinn, which opened last week. Rains portrays Shawn, an automotive designer, as well as two other characters in this supernatural film based in Arabic mythology.
Check back for more red carpet action, as DIFF continues through Saturday, April 13.
[Photo credits: All photos by Debbie Cerda, for use by request, with attribution.]