Stuntin' with the Off-Centered Film Fest 2014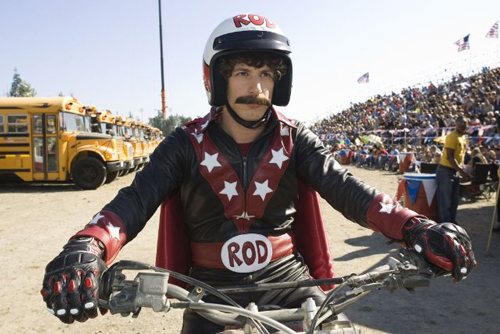 Sam Calagione of Dogfish Head Craft Brewery returns to Austin for the seventh annual Off-Centered Film Fest at Alamo Drafthouse. This year's theme for the multi-day event is "Stuntin'," dedicated to the daredevil spirit. The opening celebration will be held at Fiesta Gardens on Thursday, April 24 at 6 pm, with an outdoor 35mm screening of the comedy Hot Rod, starring Andy Samberg.
Special guests for the evening event's include The Lonely Island -- Andy Samberg, Akiva Schaffer and Jorma Taccone, as well as Calagione and representatives of the Central Texas brewing community. Ticket sales will also include an option to donate to the Texas Craft Brewers Guild (TCBG).
"We are extremely pleased to have the support of Alamo Drafthouse and Sam Calagione, and this tangibly demonstrates of the collaborative nature of American craft brewers," said Charles Vallhonrat, TCBG executive director. "This event is a great opportunity to showcase some of the wonderful craft beers that are available in Texas from both Dogfish and our Texas brewers, while supporting the work of the Guild to educate, advocate and promote for Texas craft beer."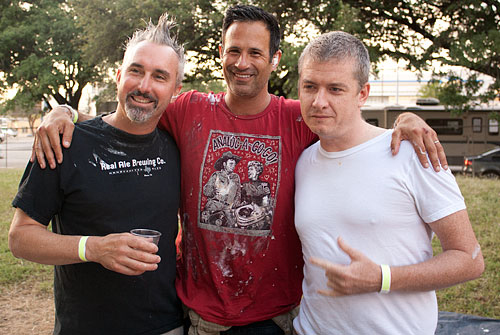 Participating breweries showcasing their beers at the Stuntin' party include: (512) Brewing, Adelbert's, Austin Beer Works, Circle, Dogfish Head, Guadalupe, Hops & Grain, Independence, Infamous, Jester King, Karbach, Live Oak, Ranger Creek, Real Ale, Rogness, South Austin Brewing, Thirsty Planet and Twisted X. You can chat with Calagione and local brewers, including Tim Schwartz of Real Ale Brewing -- seen above post-pie-booth with Calagione and Alamo Drafthouse CEO and founder Tim League.
Bring a chair or blanket and enjoy great beer and a movie under the stars -- be sure to note that the location for this annual event has changed, and is at Fiesta Gardens (2101 Jesse E. Segovia Street). Gates open at 6 pm, with the movie starting at sundown -- purchase your tickets here. Food will be on sale from local food trucks, and free mustaches for all while supplies last.
The OCFF continues on Friday, April 25 at 7 pm, at Alamo Drafthouse Lakeline with the Drunken Master Off-Centered Beer Feast, which combines Jackie Chan's classic martial-arts flick with special Asian-inspired food paired with rare and vintage Dogfish Head beers.
Alamo Creative Chef Trish Eichelberger has come up with five courses -- including shrimp toast, five-spice duck wings with Shao Xsing glaze, and tea-steamed grouper, and more -- to be paired with several Dogfish Head beers to be selected by Calagione.
You can buy tickets here for the Beer Feast.
The evening's OCFF festivities continue at Alamo Lakeline with a rare 35mm screening of the 1978 feature Stunt Rock on Friday, April 25 at 10 pm. Prepare to be bombarded with explosions, car crashes, and more mind-blowing stuntwork interspersed with cheesy Seventies mullet rock from Sorcery. You can purchase tickets to the special screening here.
Watch the trailer for Stunt Rock below:
Members of Lonely Island are hosting a late show on Friday, April 25 with white-boy rap and comedy skits at Alamo Lakeline. Unfortunately tickets are no longer available as this show sold out quickly.
On Saturday, April 26, the Off-Centered Film Fest wraps up at the Alamo Drafthouse Lakeline with a big finale -- the classic Harold Lloyd silent film, Safety Last followed by the three winning films in the Stuntin'-themed short competition. Purchase tickets for the 7 pm event here.
The final event for this year's OCFF will be a late screening of the Nicolas Cage classic Ghost Rider featuring a live commentary by film critic Marc Calderaro. Find out why Calderaro defends the theatrical version of the experiences of this cult classic comic-based character. Buy tickets for the 10 pm screening here.
Rare and vintage Dogfish Head beers will be available for purchase at all screenings at the Alamo Drafthouse Lakeline. You can expect to see Sam Calagione throughout the fest as the host and embodiment of the spirit of Stuntin'.
[Photo credit: Tim Schwartz of Real Ale Brewing and Dogfish Head's Sam Calagione with Tim League at OCFF 2012, by Debbie Cerda, for use upon request and with attribution.]