Austin Jewish Film Festival 2014 Starts Tomorrow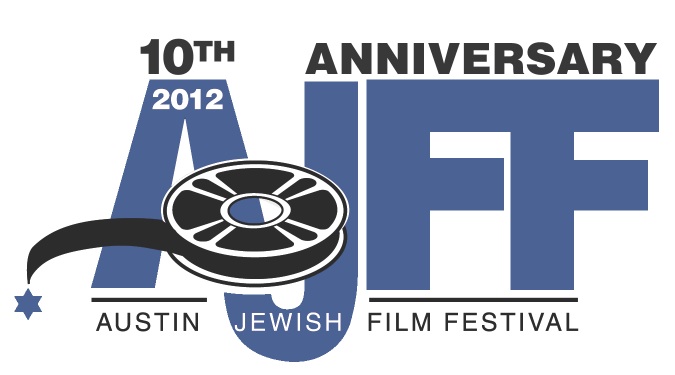 The 12th annual Austin Jewish Film Festival will run from Saturday, March 29 (tomorrow!) through Friday, April 4 at Regal Arbor, with a great lineup of feature narratives, documentaries, and shorts. Some of the films will be followed by Skype interviews with the filmmakers. Many of the movies are free to the public.
Austin Film Society and Cine Las Americas will be co-sponsoring a chilling fictional film about the infamous Dr Josef Mengele, the Nazi "doctor" who conducted non-Hippocratic experiments on prisoners at Auschwitz before fleeing to undeserved survival in South America at war's end.
For the narrative film The German Doctor (Argentina, 2013), writer-director Lucía Puenzo adapted her own novel about an Argentinean family running a hotel in remote Patagonia. They innocently welcome a German doctor as a guest and only become concerned when they detect his inordinate interest in their young daughter. There will be a Skype-facilitated Q&A with Lucía Puenzo following the film.
Another AFS-co-sponsored film is the award-winning Imaginary Witness: Hollywood and the Holocaust (Daniel Anker, US, 2004), which tells the always fascinating, oft-infuriating story of Hollywood's response to the early days of Nazi Germany, its eventual decision to create anti-Nazi films (prematurely, according to some right-wing American politicians at the time), and its 15-year foot-dragging when dealing with the Holocaust.
There were few attempts to let Americans know of the horrors of the death camps other than newsreels shown in theaters immediately at the end of the war and The Search with Montgomery Clift in 1948. Not until Judgment at Nuremberg (TV version in 1959 and a feature film with Spencer Tracy in 1961) did Nazi atrocities became an essential part of a Hollywood production. While admirable and rightly praised, The Diary of Anne Frank (1959) was focused on a family not yet in the grip of the Gestapo. Sidney Lumet's The Pawnbroker (1964) finally showed quick snapshots of the awful memories of a survivor of a concentration camp. I still remember my father's gasps at certain scenes.
Since my North Dallas High School history teacher hurried through "World War II" the very last week of class in 1960, I honestly don't remember her "getting around" to the Holocaust. Thus, it was Hollywood films from the late 50s and early 60s that awakened my generation of teenagers to the darkest, most inexplicable actions of a nation possessed by evil and madness. Later generations benefitted from increasingly frank depictions (1982's Sophie's Choice and 1993's Schindler's List) and television mini-series, such as Holocaust (1978) and War and Remembrance (1988). With its focus on Hollywood, this fine documentary would be well served by a companion documentary about European countries, especially Germany, and their own cinematic confrontation with their fascist past.
There are many other engaging films at the week-long festival. The thriller Aftermath (Wladyslaw Pasikowski, 2012), co-presented by the Austin Polish Film Festival, uncovers the anti-Semitic collusion between some Polish Catholic townspeople and the occupying Nazi forces during World War II. A Skype Q&A session with Dariusz Jablonski, producer of the film, will follow the screening.
Under the Same Sun (Israel/Palestine, 2013) is a hopeful film about two solar power entrepreneurs -- a Palestinian and an Israeli -- who want to create a joint business venture, jump-started by a Facebook campaign to overcome traditional, institutionalized distrust and to bring peaceful solutions to the Israeli/Palestinian conflicts. Israeli producer Amir Harel (Academy Award nominee for Paradise Now) and Palestinian director Sameh Zoabi created this optimistic fantasy.
The Wonders (Israel, 2013) was directed by Avi Nesher, who also created The Matchmaker, recently co-presented by AJFF and AFS in a special screening. His new work is a delightful suspense film involving a prophetic rabbi, who has been overpowered by con artists using him to made some extra (millions of) shekels. When he goes into hiding, they try to force him to sign a false confession stating that it was he, not they, who robbed the faithful of their money. Various people are trying to find him and unravel the whole truth of his gift or guile. A hapless artist/bartender gets swept up into the intrigue simply by living across from the abandoned building where the rabbi is held. This is an offbeat and fascinating look into the netherworld of religious prophecy and corruption, with nary an American televangelist in sight.
Fill the Void (Rama Burshtein, Israel, 2012) throws a twist of fate into the life of an 18-year-old girl whose sister dies in childbirth. Prolific writer-director-actress Diane Kurys' latest film For a Woman (France, 2013) delves into postwar life in France, with likable Communists, spies and entangled love affairs, all filmed in that glowing postwar European cinematic style.
Certainly the festival offers comedies as well as high dramas. Even the trailer of Peace After Marriage (US, 2013) made me laugh. The brothers Albuliwi (Bandar and Ghazi) have co-directed a neo-screwball comedy in which a lonely, porn-addicted Palestinian-American (hilariously played by Ghazi Albuliwi) agrees to a Green Card marriage with a woman ... an Israeli woman.
The title Putzel (US, 2012) warns us that the film must be a comedy and it is. Putzel Himmelstein is prepared to take over the family fish store on Manhattan's Upper West Side, but then a woman named Sally enters the tale. This film is co-sponsored by the Austin Film Festival and will feature a Skype Q&A with writer/producer Rick Moore.
There are also some films focused on children in the festival. Igor and the Cranes' Journey (Israel, 2012) draws parallels between the migration of cranes from Europe to Africa and an eleven-year-old boy being uprooted from his life with his ornithologist father in Russia to live with his mother in Israel. Nono the Zigzag Kid (Netherlands, 2012) seems like it will be a light-hearted comedy thriller with a boy befriending a seasoned burglar, learning to use disguises, indulging in (being) chase(d) scenes, and meeting a mysterious woman played by Isabella Rossellini – all just a few days before his Bar Mitzvah.
Visit the Austin Jewish Film Festival website for more information about dates, times, locations and ticket prices.