SXSW Review: Born to Fly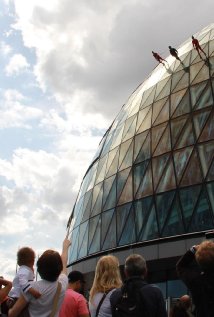 If you have not heard of Streb Extreme Action Company and have not heard the name Elizabeth Streb, you'll wonder why after seeing the documentary Born to Fly by director Catherine Gund, which made its world premiere at SXSW 2014.
Streb was the recipient of the 1997 MacArthur Foundation Genius Award and is a member of the NYC Mayor's Cultural Affairs Advisory Commission. In 1985, she founded a unique dance company performing her own very physical style of choreography called Pop Action. Testing the limits of human motion, Streb dancers forcefully slam into walls, dive and crash into the padded floor, and dodge flying steel girders or launch themselves high into the air, taking flight as they play with industrial-looking sets populated with heavy machinery.
Not much of Streb's personal life is explored in Born to Fly, but that may likely be because her life is so interwound with her work. Streb has lived most of her life in the same space in which she works. Gund reviews Streb's career with a focus on recent achievements. Her piece "Little Ease," now performed by dancer Jackie Carlson, bridges the span between the years when Streb performed herself and her current work choreographing for the company.
There is an element of danger in all Streb's performances, which as she states "do not try to hide the existence of gravity." The dancers are heavier and more solid than the traditional image, able to absorb the extreme stresses placed on their bodies by repeated heavy impacts.
At 62, however, Streb herself performed in her exhibition for the London Olympics titled "One Extraordinary Day," which included dancers bungee jumping from the Millenium Bridge, high-wire performances on the spokes of the London Eye, and an abseil down the side of City Hall.
Born to Fly does more than document Streb's work and life. The film elicits excitement about her work. It is at once exhilerating and transcendent. It will leave you wanting to see more, and indeed you can. The home of Streb Lab for Action Mechanics (SLAM) provides videos and information on live rehearsals and performances.