SXSW 2014: An Unexpectedly Musical Finale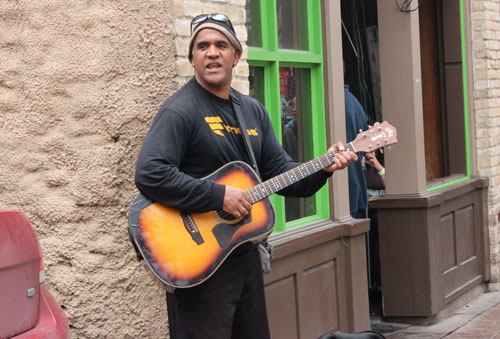 My last movie for SXSW this year was the amusing Space Station 76, at Stateside. I planned to walk a little bit around downtown afterward and maybe take some photos of various interesting SXSW sights, if it didn't rain again. I chatted a little outside the theater with local actor Sam Eidson (Zero Charisma, SXSW 2013), who was still planning to see movies that day. I almost literally ran into Austin filmmaker Emily Hagins (Grow Up, Tony Phillips, SXSW 2013) as I walked down Congress to Sixth.
As I was passing Wholly Cow Burgers, a musician was playing a guitar under the awning, a frequent sight during non-rainy SXSW days. He looked so energetic and happy that I snapped his photo a couple of times, and we exchanged waves. I stopped briefly to listen and liked the music -- not a crappy cover pandering to passersby, not someone loudly learning to play. And he looked familiar. Why would a guitarist playing on the street look familiar?
I walked another block and remembered someone on Twitter mentioning they'd seen Kevin Gant playing on the street at SXSW, which at the time I thought was far-fetched. But ... did I just pass Kevin Gant, longtime Austin musician and the subject of Jay Duplass' short doc Kevin, which screened at SXSW 2011? Did I? If only I'd had the following photo with me from the Kevin premiere so I could compare ...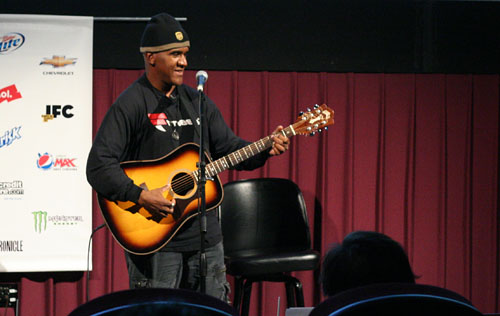 It started to drizzle and Sixth Street, street and sidewalks alike, was crowded with damp and non-picturesque people. I found nothing to photograph there or around the Convention Center, and I was starting to feel end-of-fest tired. I walked back up Congress -- passing Emily Hagins again (hi!) and wondered if the musician would still be in front of Wholly Cow, and if it was actually Kevin Gant or if I was just imagining the possibility because it was SXSW.
The musician had packed up his stuff and was standing a little further down the block, in front of an empty store, chatting with another guy. And as I passed them, I heard the words "documentary" and "took it around to film festivals." Holy cow, I was right. I was so pleased with myself that I forgot to be shy and tired and walked over and said hello.
Gant was charming to talk with, telling us both little stories about shooting the documentary, sayng he remembers Slackerwood from our Duplass-a-thon article (there is really no better way to cheer me up) and so forth. I don't know whether he was planning to play any more that day, because the whole SXSW experience hit me like a ton of bricks and I soon knew I needed to get to the car and get home. I'm a little sorry now I didn't wait around and see. Hindsight is like that.
So I headed home and picked up milk and bread on the way and silently listened to the cashier and bagger debate the merits of the Veronica Mars movie and The Grand Budapest Hotel, because this is Austin. And here I am, writing this, tired as hell (my mom, reading my Facebook posts but not understanding I was at SXSW, thought I should see a doctor), and thinking that I could not have finished off my festival experience in more upbeat or appropriate way.
If you don't know who Kevin Gant is, if you haven't heard his music, you can start by watching the short documentary Kevin. It's available on Netflix Watch Instantly. And if you like what you hear, you can buy his music on iTunes. Here's the Kevin trailer:
And check out our article from 2012 about the Duplass-a-Thon, which included a screening of Kevin and live performance by Gant.
Now, I am going to have some ice cream (I got that at the store too) and celebrate the end of another great year at SXSW Film Festival.