SXSW Review: Cumbres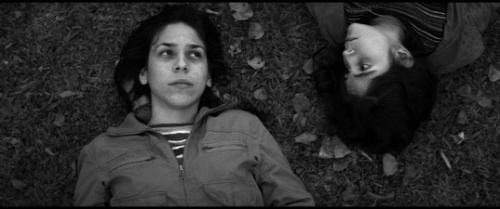 In the later days of SXSW 2014, I caught the movie Cumbres (English translation: Heights), which made its US premiere at the fest. A quiet film from Mexican writer/director Gabriel Nuncio, Cumbres slowly lets the audience into the world of Miwi (Aglae Lingow) and Juliana (Ivanna Michel). Their parents send the sisters on the road after something horrific happens involving older sister Juliana. We are shown a scar on her arm and told of bloody clothes in the sink. Just like the audience, Miwi is kept in the dark about the true extent of her sibling's troubles. Before they depart, Miwi's father reminds her to keep her thumbs on the outside of the steering wheel as she drives.
The sisters forge their way to Queretaro, where they've been told a family friend will help them. On the way, they pick up and drop off friend Danny, aka aspiring rapper Danisaurio (Abdul Marcos). Most of the movie is time spent between the two young women as they converse during this road trip. The relationship between the girls is so convincing that during one scene, I wondered if the actresses actually were related.
Neither Michel or Lingow have previous film experience; this adds to the real feeling of their dramatic situation. As does the stylistic touch of the basic costuming -- patterned sweaters, striped shirts, jackets and jeans -- and the sparse makeup. Miwi and Juliana first appear as typical young women in Mexico's middle class, but the actresses display some of what's beneath the facade.
The viewer learns along with Miwi one side of Juliana's story, as the younger sister hears news stories on the radio or sees tabloids in bus station terminals. Juliana remains mostly mum, even to her sister, as she attempts to contact her boyfriend Santiago and somehow accept what she's done.
Nuncio filmed Cumbres in black and white, which only emphasizes the many grey areas in the story. Striking visuals accompany the action, from the glare of headlights in a traffic jam to droplets of dew in Miwi's hair. Cinematographer Israel Cárdenas accomplishes some amazing work here.
The film never underestimates the intelligence of the audience. When the screen went black at the end of Cumbres, I wasn't the only one who gasped loudly in shock. The film is just as stunning for its sudden end as it is for making the viewer wish for more time with these young women.