SXSW 2014: Enthralled by 'Last Hijack'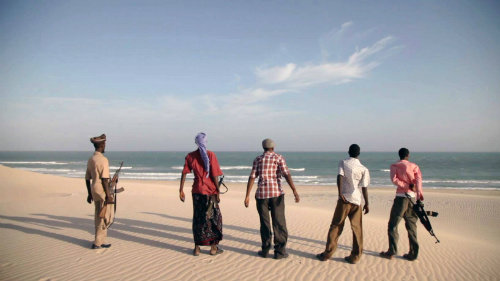 Before I attend film festivals, I sketch out an overloaded schedule and give myself multiple options, sometimes based more on where and when a movie is playing than the subject matter of the film itself. Monday, I had mainly chosen to see Last Hijack because it was playing at Alamo Drafthouse Village. I figured the doc would be a good counterbalance to Cesar Chavez, and I could get my third Alamo pretzel of the fest.* A friend happened to tweet the trailer for the documentary/animation earlier that day, and it looked terrific.
The screening wasn't jam-packed, but most seats were full as we watched the real-life drama unfold. Filmmakers Femke Wolting and former Austinite Tommy Pallotta depict some months in the life of Mohamed, a Somalian man whose tragic life has eventually led him to piracy hijackings at sea. He hopes to marry a young woman, but her family (and his parents, as well) want him to quit his piracy. He plans one last hijack to make money for him and his new wife to live in style.
Animated scenes are woven into Last Hijack, representing memories or other times that could not be filmed. The visuals are gorgeous -- I can still picture the trails Mohamed's animated figure cut through the water with his hands. Scenes from his childhood and more recent violent histories appear in a vibrant color palette using haunting imagery. I've never seen anything like it, although perhaps Waltzing with Bashir is the closest comparison I can make.
The filmmakers include time with Mohamed's parents, who care for his many children. As a contrast to Mohamed's story, we also hear from a man who works at an anti-piracy radio station. He lives under a constant threat of violence. In what is the scariest sequence of the film, he's shown receiving calls from blocked numbers. I was on the edge of my seat as his chiming ringtone signalled possible harm.
Femke Wolting, one of the directors, answered questions after the screening. Tuesday morning I read that FilmBuff will be handling distribution of the film, so hopefully it makes its way back to town after the fest. As for SXSW, Last Hijack will screen once more on Friday, March 14 at 11:15 am at Alamo Ritz.
*I actually chose to go with queso fries instead of the pretzel, and was unable to finish them. Soooo rich.