Austin Transforms Into Noir City at Inaugural Fest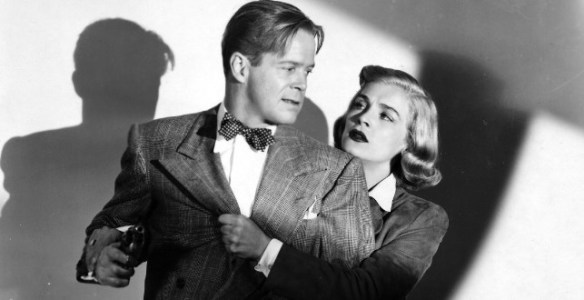 In the midst of all the excitement over the Texas Film Awards and SXSW 2014, another film-related event took place recently: the first annual Noir City Austin. While free of a red carpet and movie stars in the flesh, this festival celebrated its inaugural weekend at the Alamo Drafthouse Ritz from Feb. 28 to March 2.
Hosted by the Film Noir Foundation, Noir City Austin screened 10 films straight from the genre's heyday, and featured many faces familiar to devoted noir fans, such as Shelley Winters, Peter Lorre, Ray Milland and Lizabeth Scott.
Yet rather than screening such noir staples like The Maltese Falcon, Double Indemnity and The Big Sleep, the foundation chose lesser-known titles that, though unknown to the majority of those in attendance, still contained all the necessary ingredients essential to any noir. More than that though, the movies selected tended to go beyond the conventions of the standard noir by incorporating elements of faith, surrealism and the supernatural within its plots.
Highlights from the festival included the opening selection Too Late For Tears (pictured at top), starring Lizabeth Scott and Dan Duryea. The female-centric tale was about a frustrated housewife who is transformed into a femme fatale when a satchel full of cash literally falls into her lap, turning her into a late-1940s Lady Macbeth. Too Late For Tears plays out like an extended Alfred Hitchcock Presents episode (which isn't a bad thing) with its tight storyline, surprise twist and neat ending. However, it's one of those films with an ending that's definitely a product of Hollywood's treatment of strong female characters seeking independence instead of wedded bliss, and the travesty that follows after making such a decision.
Larceny, one of the second day's selections, told the story of a group of con artists who seek to bilk a young war widow out her fortune. By far the most conventional of the titles shown, Larceny is one of those noirs where you can let yourself just drift away into the dialogue with its many quips and one-liners (most courtesy of the legendary Shelley Winters) that truly never let up. Save for some standard boy-meets-girl moments that take place when one of the con artists begins to actually fall for the target in question, Larceny is the stuff great noir is made of, pure and simple.
Made at the tail end of the genre's period, Crashout (pictured above) pushed the boundaries about where a noir can go. Reminiscent of Stanley Kubrick's The Killing (another late-1950s noir gem), Crashout follows a group of escaped convicts as they make their way toward a stash of money buried on top of a snowy mountain. Not many noirs were made featuring ensemble casts, but this one showcased a great assortment of recognizable character actors, each of whom takes an archetypal prison-inmate character and infuse him with more than even screenwriters of today dare. Part morality tale, part genuine suspenser, Crashout challenges the genres tropes in exchange for a truly exciting adventure.
My favorite screening, without question, was the intricately plotted Repeat Performance, where a Broadway star murders her husband shortly before midnight, only to find herself on the morning of New Year's Day the previous year. I was really impressed with how carefully the many details were woven into each other and how they all conspired to drive the main character to her fate. Beyond that, I loved how seamlessly the plot made the year fly by, not letting the audience feel bogged down by time, but instead get lost in the actual events taking place. I also had to applaud how the film questioned the notion of destiny and personal character. Not many titles in the genre dared to do that in those days (for fear of sounding preachy, no doubt), but in Repeat Performance, it makes for a truly enriching noir experience.
I must highlight one of the final selections of the festival: Alias Nick Beale. Starring Ray Milland as the titular character, Alias Nick Beale focuses on a just, popular DA who inadvertently sells his soul to the devil in exchange for the governorship. There's lots going on about morality and honesty throughout, which may seem a bit self-righteous for some, but the film is anchored by Milland's (yup, I'm gonna go there) devilish performance. An actor of great depth who many feel never attained the legacy he deserved, Milland is truly at his most intriguing as the stranger no one sees enter or leave a room, and can always be found in the shadows. Its truly a magnificent performance and is what truly makes Alias Nick Beale a worthy noir title.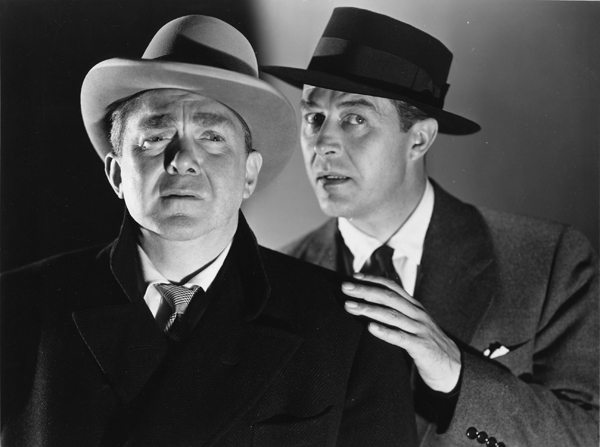 While the entire lineup of films was wildly diverse in terms of plot, themes and tone, the one common link they all share is that they are virtually unavailable to own. Yes, some of the movies have fallen into public domain, meaning there are lots of shoddy DVD copies floating around. But for the most part, none of these films has even made it to VHS or has ever been screened on Turner Classic Movies. Therein lies the true essence and mission of the Film Noir Foundation. Beyond simply celebrating the genre in all its glory, they strive to keep it from dying out through repeated long and painstaking restoration efforts to keep these little-known but still worthy titles from disappearing.
Keeping this in mind the whole time, I thought about my favorite film noir; a Barbara Stanwyck offering called Sorry, Wrong Number, where she plays an invalid wealthy socialite who must play detective from her bed when she overhears a murder being plotted over a cross-wired telephone call. It's a brilliant piece of film noir, featuring flashbacks within flashbacks, an intense final act and a flawless (Oscar-nominated) Stanwyck. I remember thinking after the festival how lucky I am to have my favorite noir sitting in my DVD shelf at home, while treasures such as the lineup I had just seen exist only in people's memories. Thanks to the Film Noir Foundation and Noir City, they aren't just memories anymore.
For more information about the Film Noir Foundation, including ways to contribute, please visit the foundation's website.
Frank Calvillo is a Senior Marketing Intern at the Austin Film Society.