SXSW Review: For Those in Peril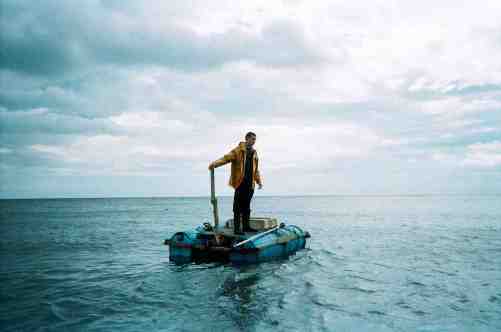 For all the haunting images in For Those in Peril, the film's most haunting moment isn't a visual, but a song sung by a grieving woman.
The song is "The First Time Ever I Saw Your Face," an achingly beautiful love song that sounds achingly sad in the movie. The singer is Cathy (Kate Dickie), a weary mother who has lost a son and fears she may lose another. What should be a good time singing karaoke in a pub turns bitter when Cathy is overcome with emotion and can't finish the song. It's a devastating scene in For Those in Peril, a film full of devastating scenes.
Cathy's son Michael (Jordan Young) died along with four crewmates in a tragic fishing boat accident. The sole survivor is Michael's younger brother, Aaron (George MacKay), who suffers crippling survivor's guilt. He gets no sympathy from the residents of the tiny Scottish fishing village where he lives; in a culture steeped in seafaring folklore and superstition, they blame Aaron for the accident, consider his presence bad luck and ostracize him with unbearable cruelty.
One person who does not shun Aaron is Michael's fiancée, Jane (Nichola Burley). She shares his grief, and the two grow closer until her father, Frank (Michael Smiley), sees hints of a romantic relationship and decides Jane would be better off grieving alone. Frank's intentions are good, but completely misguided -- pushing Aaron away only compounds his and Jane's anguish.
Without Jane, Aaron's only hope for sympathy is the long-suffering Cathy. But a mother's love can do only so much. Unable to deal with his emotions, Aaron becomes delusional, believing Michael is still alive and heading out to sea to find him. This descent into madness is the narrative core of For Those in Peril, a striking and visionary film that captures Aaron's meltdown with brutal candor.
Scottish filmmaker Paul Wright's first feature film is a visceral, visually arresting meditation on death and grief. Combining mythology, heartbreaking reality and highly stylized, often surreal visuals, For Those in Peril is relentlessly grim but mostly effective. Wright's style -- which relies on quick edits, minimal dialogue and a mixture of media and formats -- may not be for everyone, but it is distinctive and innovative.
Aaron's story is the focus of For Those in Peril, but the film's emotional anchor is Cathy. She confronts all her troubles with quiet dignity and strength. We know little about her life, but sense it's been one of suffering. Obviously, Aaron's madness is only the latest episode in the family's troubled history. MacKay is in almost every scene and does a terrific job of conveying Aaron's desperation, but Dickie's shopworn and nuanced portrayal of Cathy is by far the film's best performance.
While I admire For Those in Peril for its daring visuals, great acting and primal man-versus-nature appeal, its narrative arc is far less interesting. Stripped of the gut-punch emotions and often stunning look and feel, the story is barely there. Aaron spends the entire film bewildered and lost in grief, never healing at all. His story doesn't progress much, and there is a lot of repetition in For Those in Peril as we see scene after scene of his suffering. For Those in Peril never loses its emotional punch, but by the midpoint it loses most of its narrative drive. There isn't enough of a story to sustain a feature-length film.
Still, For Those in Peril is worth watching for its style, if not for its story. (The Scottish film community certainly found it worth watching; it won the 2013 Scottish BAFTA award for Best Feature Film, and MacKay won the Best Actor/Actress award. These are only two of For Those in Peril's many awards and nominations.) Be forewarned that it's as grim and tragic as any movie you'll see -- but you'll seldom see a tragic tale told with such unforgettable cinematic vision.
For Those in Peril screens again on Wednesday, March 12 at 2 pm at the Alamo Drafthouse Ritz and Thursday, March 13 at 2 pm at Alamo Slaughter.