Austin at SXSW 2014: SXSW Shorts Programmer Claudette Godfrey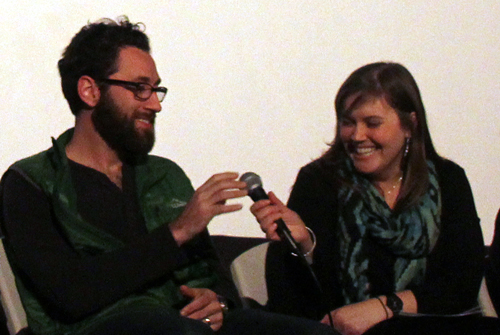 An exhaustive amount of time, energy, and effort goes into programming one of the largest film festivals in the United States, and it takes a dedicated team of programmers to carefully select the best program for the SXSW Film Festival each year.
Recently the Austin Film Society (AFS) hosted "An Austinite's Guide to the 2014 SXSW Film Festival," a panel discussion moderated by AFS Associate Artistic Director Holly Herrick and featuring Head of SXSW Film Janet Pierson, Producer and Senior Programmer Jarod Neece, and Short Film Programmer and Operations Manager Claudette Godfrey. And I've been chatting via email with Godfrey as well.
At the panel discussion, the SXSW programming team talked about what's new this year and what films they were excited about. Neece mentioned the new episodic category and is most excited for the new series Silicon Valley, directed and written by Austinite Mike Judge, John Altschuler and Dave Krinsky.
Following a brief film community happy hour with several local filmmakers and festival-goers, the SXSW programming team was joined onstage by local filmmakers including filmmakers Katie Graham and Andrew Matthews (Zero Charisma), producer Jason Wheling (The Retrieval, Saturday Morning Mystery), and David Hartstein (Along Came Kinky, The Happy Poet) seen at top with Godfrey.
As a member of the AFS ShortCase jury and short film enthusiast, I was most interested in learning more from Godfrey about this year's short film selections. Currently she is responsible for curating the festival's 11 short film programs, overseeing film submissions to the festival, and managing the organizational big picture for the event.
Godfrey who was born and raised in Austin, began her career at SXSW in 2006 as an enthusiastic volunteer. A radio-television-film grad at The University of Texas at Austin, Claudette previously worked for the CineVegas Film Festival and served as a shorts programmer for Fantastic Fest from 2010 - 2012. Godfrey also shared in her biography that "notably, and perhaps most importantly, she does a mean karaoke version of Notorious B.I.G.'s 'Hypnotize.'"
Here's what she had to say:
In your opinion, what is the value of short film?
Part of what I love about short film is that it's a place for artists and filmmakers to experiment and play. You can do things in short form that would never work for a feature length film and that presents unique challenges for filmmakers. Telling a complete (or interestingly incomplete) story in a short amount of time, engaging a viewer and getting them invested in your characters in 10 or 15 minutes is a huge feat.
Filmmakers have to have a great understanding of storytelling and sense of economy to create work that provides what's essential. I think it contributes to the health of cinema as a whole to have diversity of film itself.
How boring would it be if all filmmakers made feature-length work? You would never see an amazing short animation, a bad-ass music video that makes you love a song more, or doc short that teaches you or exposes you to something new. Diversity is good!
Would you consider short film to be an underappreciated medium for American audiences?
I'm not sure if I would call short film underappreciated. In some ways it's true that more people are exposed to short form content than ever before, if only because they have access to it than ever before. Think about how many outlets and networks share and promote short content like ESPN and The New York Times, for example. Their goal may not necessarily always be to support short film in the formal sense, but they are aiming to support content that engages with their audience.
The internet has changed the game, so even without realizing it those people who are "watching a video online" are often times watching what we would consider short films made by talented filmmakers, and that's a good thing.
How can an appreciation for short film be fostered by programmers? festivals? filmmakers? audiences?
Honestly, I think continuing to support and showcase the work is the best way. I know there are people who have never watched short films before that watch them at SXSW, and that means that the audience is expanding and growing. If we show them great films, I know they'll come away more with an open mind to short form work and be more likely to seek out short films in the future.
When programming, what do you look for in a short film?
At SXSW we program live-action, documentary and animated shorts as well as music videos. I'm always looking for a good story that hooks me emotionally. It has to engage me and elicit a reaction because at a base level, I'm interested in showcasing filmmakers that excite me and our audience. I'm looking for stories I haven't seen a million times before.
Yes, I know, everything has been done before, but if I have seen a specific story, I want to see it handled in a unique way or from a new perspective. There's no formula, there is something intangible about it. It's thrilling for me to find a film I love and to share that work with the audience at SXSW.
How do you select for a specific program, and determine arrangement?
Again, this is a tad intangible. Programming is a combination or knowledge, instinct, and hard work. It's finding the sometimes subtle similarities between films or films that complement each other in some way and considering how the audience's emotions will flow from one to the next. It's almost about identifying the films that can work together and how they can create an unique experience for the audience as a complete program.
How do you tackle the number of submissions with multiple programs? Do you go through each program separately?
Programming is like a giant puzzle with too many pieces -- there are always too many good films and too few programming slots. The odds are against filmmakers at a large festival like SXSW and it takes hundreds of hours spent watching and narrowing things down to get to the final program. We really work to make sure every film has gotten a fair shot.
Essentially, each submission category is considered against the other submissions in that category. So, narrative, documentary, animation, music video, and Texas high school are considered as separate groups, even to the very end of the process. Then, for categories that have more than one program, like documentary or narrative the work shifts to paring down the finalists into workable programs in terms of run time and content.
Which program do you find most challenging? Do you have particular genre favorites?
Our live-action/narrative shorts are definitely the most challenging due to the large number of submissions we receive for this category -- over 2800 for SXSW 2014! I love programming all of the sections because they are all different, but have an exceptional kind of fun with the Midnight Shorts. It's fun to be allowed to share work that's genre, ridiculous, crazy, random, or some combination of those things. It's still about showing interesting great work, but there's room for more insanity.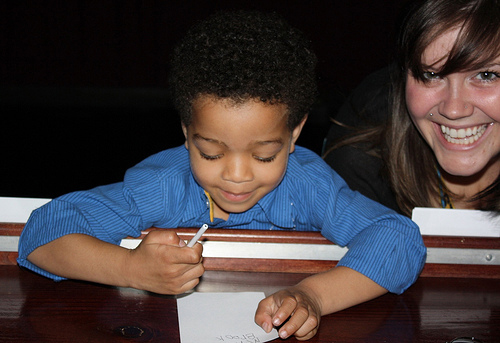 Can you share some observations specifically for the Texas Shorts program? The Texas High School shorts?
The biggest thing is that we're seeing is more great work being made in our great state and by Texans no matter where they are. I think that has been spurred on by the success of films from Texas. It's also due to the level of support provided to filmmakers from the Texas Film Commission and local film commissions, as well as local film organizations like the Austin Film Society. It's a community effort, really, and we're showcasing work from established filmmakers who may be directing for the first time, as well as work from newcomers.
We had a record number of submissions for the Texas High School Shorts program this year, almost 200. It's great to see so many young people working in filmmaking at a young age and getting that early experience. It's a treat for us to showcase their work to a larger audience and give them the SXSW Film Festival experience.
[Photo credits: "David Hartstein with Claudette Godfrey," "SXSW Texas Shorts: Myles Brooks of Pioneer with Claudette Godfrey," by Debbie Cerda for use with attribution. "Claudette Godfrey SXSW Badge" courtesy of SXSW.]