What's Streaming: And the Oscar Goes To ...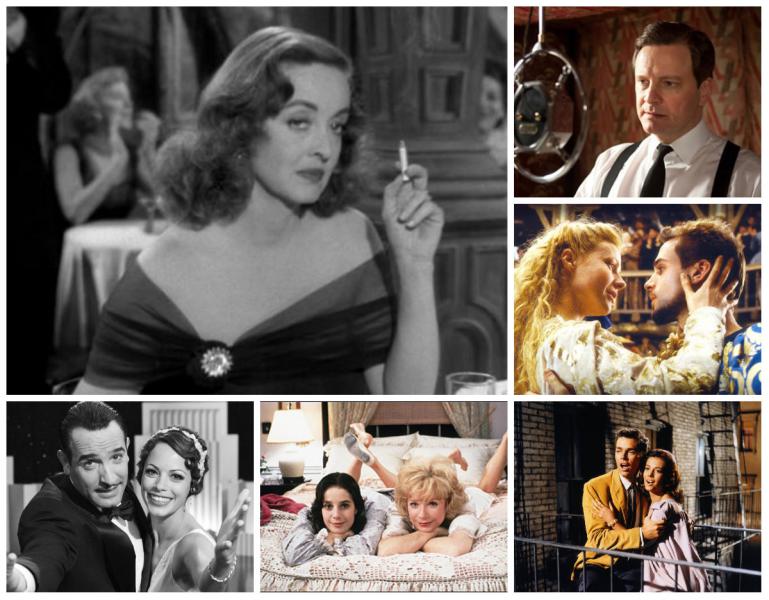 The Oscars have always been my family's version of the Superbowl. We always make it a point to watch the ceremony together, sometimes making bets on who will win in each category. And with my recent viewing of the 2014 awards, it only seemed appropriate to make this month all about past Oscar winners.
Film fans are always going to have their opinion on who won, or who was robbed of the golden statue. Although I have not always agreed with the Best Picture winners, it is always intriguing to see what the Academy feels is "the perfect film" each year. I would encourage anyone to make it a point to see all of the Best Picture winners throughout Oscar history; if anything, it certainly makes for a fun challenge. In the meantime, though, here are a few past winners worth checking out.
The Artist (2011 winner) -- I recall being apprehensive about this film when I heard it was entirely silent. Thankfully, friends dragged me along to see it and I discovered just how great that element made the film. Mimicking the style of early cinema, this piece tells the story of George (Jean Dujardin), a silent-movie star whose fame is shaken with the arrival of talking pictures. It seems that life is pointless for him until his close friend Peppy Miller (Bérénice Bejo), a dancer whose stardom has risen unlike his, makes him see his worth as both a person and actor. This film is 100 minutes of 1920s fun, and also filled with an adorable Jack Russell terrier named Uggie who plays George's companion. Available on Netflix, for purchase on Amazon Instant and iTunes
The King's Speech (2010 winner) -- Colin Firth has always been a complex actor to me. He can range from intense, seductive characters all the way down to the most insecure, quiet people. His performance in this film really struck me because of how opposite it is from his normal roles. Portraying King George IV, the film follows his struggle to move into the position of king after his brother abdicates the throne. Also trying to overcome a terrible stutter, the film is a great example of the personal battles we all face, and to what lengths we will go to correct them. Available on Netflix, Amazon Instant and iTunes
Shakespeare in Love (1998 winner) -- I personally am not big on romance films. Or Gwyneth Paltrow. However, someone talked me into seeing this movie, and for some reason I gave in ... and ended up forgetting those distastes. The film is a fictional tale about how William Shakespeare (Joseph Fiennes) met and was influenced by a young woman named Viola (Paltrow), inspiring him to write the infamous Romeo and Juliet. As with most Shakespearian tales though, their love is not an easy one and has constant obstacles thrown in their way (such as Colin Firth!). A film certainly worth a watch, if anything for the steamy love scenes. (Hey -- I'm just being honest.) Available on Netflix, Amazon Instant and iTunes
Terms of Endearment (1983 winner) -- I'll admit: When I first heard about this movie, all the person needed to tell me was that Shirley MacLaine was in it and I was sold. A heart-wrenching story of a relationship between a mother and daughter, this film will make you appreciate the family you have in your life, as well as what little time we have to spend with them. You'll quickly see there's no question as to why it snagged 5 of the 11 Oscars it was nominated for, including a Best Actress win for McLaine herself. I feel that this is a movie that gets better as you age, so I myself am going to take the time to re-watch it again this month. Available on Netflix, Amazon Instant and iTunes
West Side Story (1961 winner) -- With the recent rumor that Steven Spielberg is interested in remaking this film, I highly recommend that you go right now and pop this up on your computer or TV. Filled with a star-studded cast, this modern day Romeo and Juliet is about the forbidden love between Puerto Rican Maria (Natalie Wood) and white-bread Tony (Richard Beymer). Filled with great music, beautiful dance numbers (particularly the famous gym mambo scene) and some stellar performances by the ensemble cast, this is one film you'll want to catch before it becomes re-modernized. Availble on Netflix, Amazon Instant and iTunes
All About Eve (1950 winner) -- Any film featuring smug, witty female characters is all right by me. Perhaps my favorite Bette Davis film, All About Eve centers on Margo (Davis), an actress who knows she is the best around; she's a legend, admired by all. But when a young ingenue named Eve (Anne Baxter) starts to draw more attention to herself and her acting talent, Margo's star slowly begins to fade, leaving her to cope with life after fame. This film is not only full of spectacular performances, but is perhaps one of the most well-written films from this era (scripted and directed by the famous Joseph L. Mankiewicz). If you've never seen a Bette Davis film, I recommend starting here. Available on Netflix, Amazon Instant and iTunes
Of course, these are just a few picks from many Oscar wins. What are some of your favorite Best Picture winners?
[Photos above are screen caps from All About Eve, The King's Speech, Shakespeare in Love, West Side Story, Terms of Endearment, and The Artist.]