Review: Non-Stop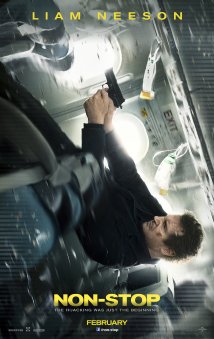 Director Jaume Collet-Serra (Orphan, House of Wax) has worked with Liam Neeson previously on the movie Unknown, but there is another clear reason Neeson was cast for the role of alcoholic air marshal Bill Marks. The actor has the talent and star power to elevate an otherwise unremarkable, movie-of-the-week script like Non-Stop into a moneymaker with wings.
The story, penned by a team whose credits include TV's Big Brother and WWE/WrestleMania, lands Neeson in the role of Bill Marks, an air marshal on a transatlantic flight. He's confronted with text messages from an anonymous villain who promises to kill someone on the flight unless the exorbitant sum of $150 million is wired into an account within an unlikely time limit of 20 minutes. With the clock ticking and no clues to help him, he must reveal the hijacker even as the villain's complex plan unfolds to frame him for the deed.
The ensuing tense whodunit occupies the audience with guessing games, attempting to lead them astray with characters that play on ethnic stereotypes and dirty looks as Marks and his allies Jen Summers (Julianne Moore) and Nancy (Michelle Dockery) attempt to expose the culprit.
As the flight's body count increases, so does Marks' level of stress, until Neeson is enraged, throwing passengers around like rag dolls and progressing only in cementing his image as a hijacker, already being painted in the media on the ground.
Non-Stop is best enjoyed by those who don't pick apart a script and can allow themselves to be caught up in the tense situation. Collet-Serra has a few tricks to keep the pace moving, including some impressive hand-to-hand choreography within the confines of the plane's lavatory. These tricks make for an enjoyable film, in spite of the descent into monologues as the clock is ticking and swift loss of direction when the hijacker is finally revealed.