New Film Fest This Weekend: The First Annual Noir City Austin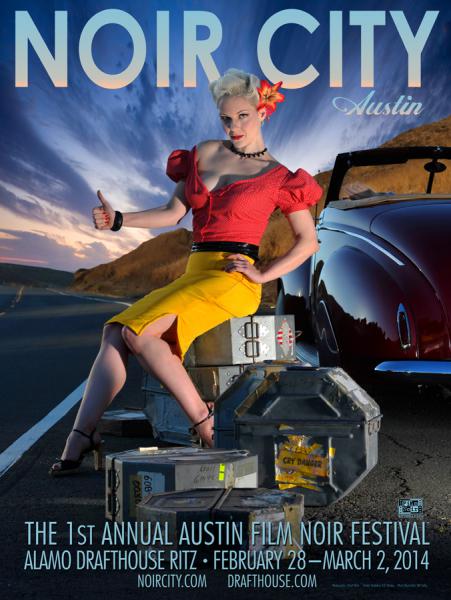 There's usually very little to look forward to at the movies during the uneventful dog days of winter. This weekend, apart from the release of what looks like a passable popcorn thriller called Non-Stop, starring Liam Neeson and Julianne Moore, it seems like there's nothing in the way of big-screen entertainment to get jazzed about.
The game changed, though, when The Film Noir Foundation announced the First Annual Noir City Austin, a three-day film festival taking place at the Alamo Drafthouse Ritz from February 28- March 2. The weekend features ten lesser-known film noir gems starring the likes of John Garfield, Shelley Winters, Peter Lorre and Robert Cummings, among others, and promises to be the ultimate gin-swilling, cigarette smoking gift from the movie gods themselves.
The lineup is as follows:
Too Late for Tears (1949) -- Friday 2/28
Through accidental circumstances, Alan and Jane, an average married couple, come into possession of a satchel full of money and quickly find themselves at odds about what to do. When Jane decides to keep the money, she finds herself going down a dark path from which there is no return.
Try and Get Me! (1950) -- Friday 2/28
Based on a sensational crime story from the 1930s, Try and Get Me! tells the story of down-on-his-luck family man Howard, who is pulled into a life of crime by ruthless criminal Jerry. Though lucrative as their life of crime is, it's their final caper that proves to be their most deadly.
Larceny (1948) -- Saturday 3/1
When two con men and their femme fatale counterpart hatch a scheme to bilk a recent widow out of her late husband's money, the trio feel they have all their bases covered. However, it isn't long before things go awry in this little-seen title, which features more wisecracks and romance than most other noirs of the era.
Crashout (1955) -- Saturday 3/1
After staging an elaborate prison breakout, six escaped convicts embark on a long hunt for a fortune in stolen cash amid a series of double-crosses. Shot at the tail end of the genre's heyday, Crashout is an adrenaline-filled entry into the noir genre that also plays with themes of self-reflection and fate.
Cry Danger (1951) -- Saturday 3/1
A framed man, a beautiful woman, a motive for revenge and the streets of Los Angeles. All are present and accounted for in Cry Danger, one of the more well known titles of the festival where a wrongly-convicted ex-felon sets out to uncover the true individual responsible for the crime.
The Breaking Point (1951) -- Saturday 3/1
This retelling of Ernest Hemingway's To Have and Have Not swaps the setting to the West Coast for the classic noir tale of a sea captain who turns to crime when times become tough. Not long after, his escapades lead to more danger than he ever could have anticipated.
Repeat Performance (1947) -- Sunday 3/2
One of the few noir titles to incorporate time travel, Repeat Performance tells the story of Sheila Page, a Broadway star who murders her husband on New Year's Eve before fleeing to the arms of her producer. When Sheila arrives at his home, however, she discovers that it's actually the previous New Year's Day and that her crime still lies in front of her.
Three Strangers (1946) -- Sunday 3/2
A somewhat unconventional yet still suspenseful entry in the genre, Three Strangers mixes Chinese folklore with desperation and greed. When a woman possessing an ancient Chinese idol that will grant a wish made by three individuals decides this is her way to much-needed fortune, she recruits two strangers to help make her wish come true ... which as they all soon discover, comes with a price.
Alias Nick Beal (1949)- Sunday 3/2
This precursor to last year's The Counselor sees Ray Milland as a revered DA whose ethics and morality are questioned when he begins consorting with local underworld figure Nick Beal. Directed by John Farrow and starring Ray Milland, Alias Nick Beal infuses hints of Christianity into its plot, leading some to ask: Who IS Nick Beal?
The Chase (1946) -- Sunday 3/2
When a good deed lands a down-on-his luck average guy named Chuck a job as a chauffeur for wealthy gangster Eddie, things start to look up. However, when Eddie's wife Lorna expresses her desire to break free from her monstrous husband, the two soon embark on a neverending chase from not only Eddie, but from the darker side of humanity.
Frank Calvillo is a Senior Marketing Intern at the Austin Film Society.