Ready, Set, Fund: Pre-SXSW Film Crowdfunding Updates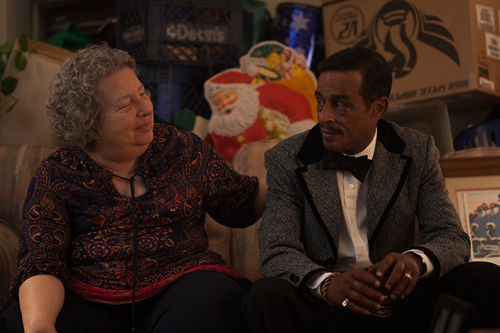 Ready, Set, Fund is a column about crowdfunding and fundraising endeavors related to Austin and Texas independent film projects.

Several local film projects that ran successful crowdfunding campaigns are making their regional premiere at this year's SXSW Film Festival including the experimental documentary Yakona from San Marcos-based filmmakers Anlo Sepulveda and Paul Collins, Thank You A Lot from Matt Muir and Chris Ohlson, Jeffrey Radice's No No: A Dockumentary, and Todd Rohal's Rat Pack Rat (pictured above). Yakona also received two Austin Film Society Grants (formerly known as the Texas Filmmakers' Production Fund), as did local filmmaker Kat Candler for her feature-length version of Hellion, which also makes its Texas debut at SXSW.
The SXSW Film Conference will feature several sessions that should be of interest to filmmakers who want to learn more about achieving funding for their projects.
"Meet the Insiders: Funding and Special Organizations" will feature several speakers from the nonprofit film world and they'll speak about "what NOT to do in your proposals to grants, fiscal sponsors, film labs, and other programs." Independent Film Project Producer and Program Manager Rose Vincelli Gustine will moderate this panel, which includes industry experts such as Sundance Film Fund Director Rahdi Taylor, Independent Lens Senior Series Producer Lois Vossen and Chicken and Egg Pictures Operation and Programs Manager Iyabo Boyd.
"Future 15s: The Crowd" is a series of short solo performances featuring quick-fire topics addressed by speakers including Austinite Nicolas Gonda, co-founder and CEO of Tugg, Inc. Gonda will speak on "Why We Should Crowd Source." Other topics featured in this session include "The Art of the Hustle/Hustling for Art: Kickstarter + Indie Filmmaking"by independent producer and Kickstarter Film Program Director Elisabeth Holm and "Crowdfund a Simple Idea to the Silver Screen" by Indiegogo Film, Web and Video Manager John Trigonis, who is also the author of Crowdfunding for Filmmakers: The Way to a Successful Film Campaign.
In non-festival news: Two years have passed since devastating fires in Bastrop, Texas laid to waste over 25,000 acres and 500 homes in Central Texas and left many families displaced even now. Natalia Rhea is documenting the aftermath and impact on the environment and community in Raining Fire: What Lies Beneath the Ashes, which is funding through March 6 on Kickstarter.
Watch Rhea's pitch video below:
University of Texas at Austin film school graduate Faith Daniel also focuses on a natural disaster on an even larger scale for her upcoming documentary, Tsunami Violins -- The Bond of 1000 Tones Project, which is funding through March 31 on Kickstarter. The focus of this project is on Luthier Muneyuki Nakazawa, who is on a "quest to create beauty from that devastation." The sacred pines of Rikuzentakata, which had stood for centuries, were completely destroyed but for one lone pine called "The Miracle Pine" that eventually died as well due to the excess salt left in the wake of the tsunami.
Nakazawa used the salvaged pine wood to make two violins from which the dream of "The Bond of 1000 Tones" was born. Daniel, who lived in Japan for over five years, hopes to bring the violins to Austin for a special appearance.
Other Austin and Texas film-related projects funding this month:
Check out the intriguing pitch video for the sci-fi short Launch below:
Updates on previously featured projects:
Several projects featured in last month's column reached their funding goals, including Stephen Belyeu's sci-fi tale The Father, John Hidalgo's short film Ariel, and Arvind from award-winning director Evan Roberts (33 Teeth, Yeah, Kowalski).
Although Arvind did not reach its "stretch" goal to cover distribution and promotional costs, this crowdfunding project is an example of how filmmakers can set a conservative goal in the "all-or-nothing" environment of Kickstarter. However, be sure to read the "Think Before You Stretch" article on the Kickstarter blog for more about the caveats of the stretch goals approach.
Have a project that you would like to be considered for an upcoming "Ready, Set, Fund," feature about crowdfunding and related fundraising endeavors for Austin and Texas independent film projects? Contact us with the subject line "Ready, Set, Fund" if you have a film fundraising project you'd like us to know about.