Texandance: New Braunfels Starts a Film Fest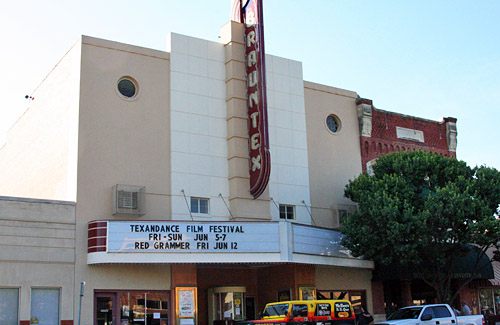 Last Saturday, I headed over to New Braunfels -- not for tubing or Schlitterbahn, but to watch movies. The Texandance International Film Festival launched this year at the Brauntex Theatre, and I wanted to be there for even a little of the fun. Besides, Chris Holland is always telling me I should go to out-of-town festivals (although I think he meant slightly more out of town than an hour's drive).
Texandance ran from Friday through Sunday, with some Central Texas-shot films in the lineup as well as shorts and features from around the world. Saturday was an especially good day for Texas movies at the fest. We got to the Brauntex as Crawford was playing, a film I enjoyed at SXSW in 2008. The documentary about how the small Texas town was affected by George W. Bush has recently become available on DVD. But the Brauntex, in a historic part of a small Texas town, was an ideal venue for this movie.
I met the film festival's co-founders, Bryce Tumlinson and Vince Koegle, who were very friendly and enthusiastic about the festival and the films they selected to screen:
After Crawford screened, the organizers got ready for the festival awards ceremony. Before the awards, we watched a couple of short films. Dirty Money was a cute film about the adventures of a dollar bill, which made me want to sterilize all the money in my wallet. The Dutch film For a Few Marbles More was a parody of Sergio Leone films featuring young girls and boys; it would have made a great pairing with Let the Right One In at Fantastic Fest.
Vince and Bryce changed into fancy dress for the awards ceremony -- and brought their little daughters onstage briefly to show them off, which was just plain adorable and not something you'd see at a larger and stuffier film fest.
A lot of the filmmakers who had films in the fest were at the awards ceremony, which added to the fun. So most awards could actually be given out to people who were there to accept them. The photo below is New Braunfels filmmaker Alex Alston, receiving a "Wurst" award (for good filmmaking, not bad) for his short film Tom's Death. Yes, that's a sausage: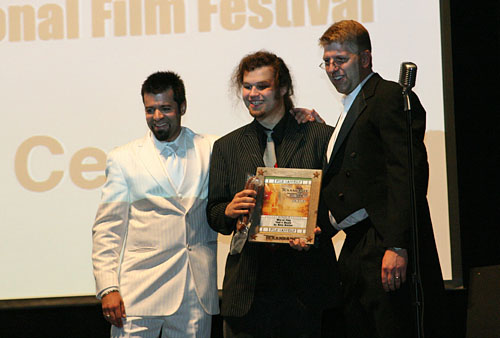 After the awards, we watched a very funny short that skewered indie-film stereotypes, Joey and Jerome's Artistic Meaningful Independent Film. Writer-director Josh Bass shot this short in Houston. This film may have the best Manic Pixie Dream Girl ever.
The feature film that closed out the evening was a Western, Palo Pinto Gold, which was shot around Boerne (near San Antonio). Although the film has just become available on DVD, this was an excellent choice to show on the big Brauntex screen because it was such a beautifully shot film, with gorgeous scenes of Central Texas landscapes.
Palo Pinto Gold was a tale of revenge and fighting corruption and making the West safe -- you know, your typical Western storyline. The filmmakers included some fun casting choices in smaller roles. The tale was told in flashback by Roy Clark and Mel Tillis, joking around together. My dad would love this movie just for those scenes. Stuntman-actor Bill Hart has a small role as a grandfather. There are cameos from musicians Robert Earl Keen and Kevin Fowler, and Dallas Cowboys tight end Jay Novacek plays "a cowboy from Dallas." But the most amusing cameo was the guy playing the Governor of Texas: Kinky Friedman.
Some of the cast members in smaller roles showed up at the screening in their period costumes from the film: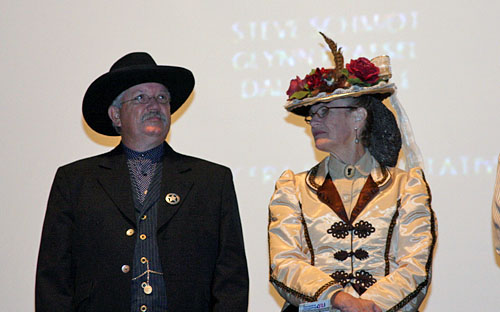 After the film ended, many of the cast and crew members walked up onstage and were introduced:
And that wrapped it up for Saturday night, except that Chip and I stopped at Freddy's and got some frozen custard before we drove back to Austin again.
Texandance did a good job of bringing some films to New Braunfels that wouldn't have played there otherwise, films that haven't played Austin either like Freezer Geezers, Begging for Billionaires and Welcome to Macintosh. The organizers also chose a good selection of films with a local or Texas angle to them. I'll look forward to seeing what they bring to New Braunfels next year.
My only complaint was that instead of a sponsor reel shown before festival films, like you might see at SXSW or AFF, the festival showed commercial-length advertisements for each sponsor, often with several in a row between shorts or before the awards. It took up a lot of time and I started to feel like I was in one of those corporate chain theaters. Hopefully this can be sorted out to the satisfaction of the sponsors and the audience in future fests.
On the other hand, how many film festivals have you attended where the Little Ceasar's pizza guy leaps onstage and plays a cardboard guitar? This guy needs to get involved with Alamo's Air Guitar championships:
Texandance also had a midday break in its Saturday schedule for festgoers to enjoy "lunch, siesta, float on the river, pass out, or whatnot." I think more film fests could benefit from this attitude. Thanks again to Bryce and Vince for providing me with the chance for a fun day trip with movies.