SXSW Photo Flashback: How We Met Greta Gerwig
Yesterday, we learned that actress Greta Gerwig had signed to produce, write and star in a TV sitcom, How I Met Your Dad. She also starred in one of my favorite films of 2013, Frances Ha. But many of us who frequent SXSW still remember her on the stage of the Paramount after Hannah Takes the Stairs premiered at SXSW 2007, where the actress admitted that the belt she was wearing was the one she'd worn in the movie, because she wore her own clothes for the film. That's microbudget indie production for you.
I was at the theater that night with my crummy little point-and-shoot and took some photos too. Here's a close-up of Gerwig in her stripey dress along with Mark Duplass (second from the left), who also acted in the film, and director Joe Swanberg (between Duplass and Gerwig).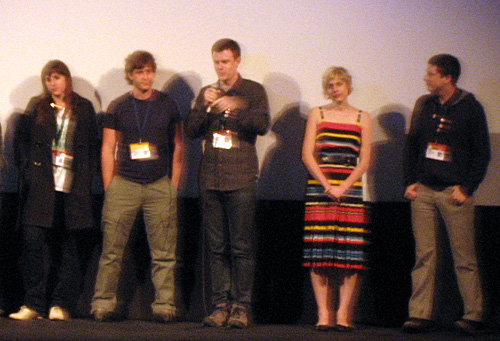 A year later, Gerwig was back at SXSW with three films: Swanberg's Nights and Weekends, the Duplass brothers' Baghead and Mary Bronstein's Yeast. Here she is at Alamo Drafthouse Ritz with the Baghead cast and crew -- Mark Duplass (again) on the left, producer and local filmmaker John Bryant, actor Steve Zissis (who had a brief role in Her) and Ross Partridge.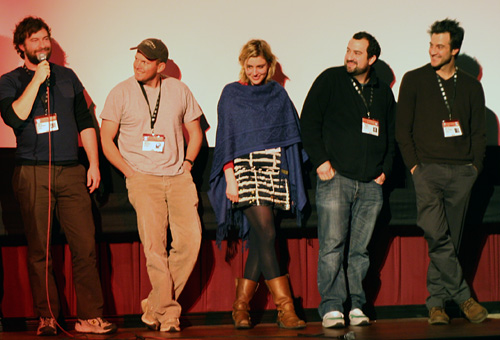 Not long after that, Gerwig's career became less microbudget and more indie-ish-studio with roles in Greenberg and Damsels in Distress. (We are just not going to talk about Arthur, although she was very good in it.) I am guessing she no longer wears her own clothes in movies, although I do wonder if she still has the Hannah Takes the Stairs belt.
[Photo credit: "Cast and Crew of Hannah Takes the Stairs" by Matt Smith, found on Flickr and used under Creative Commons license; all other photos by J. Kernion, all rights reserved.]