Review: 2014 Academy Award Nominated Short Films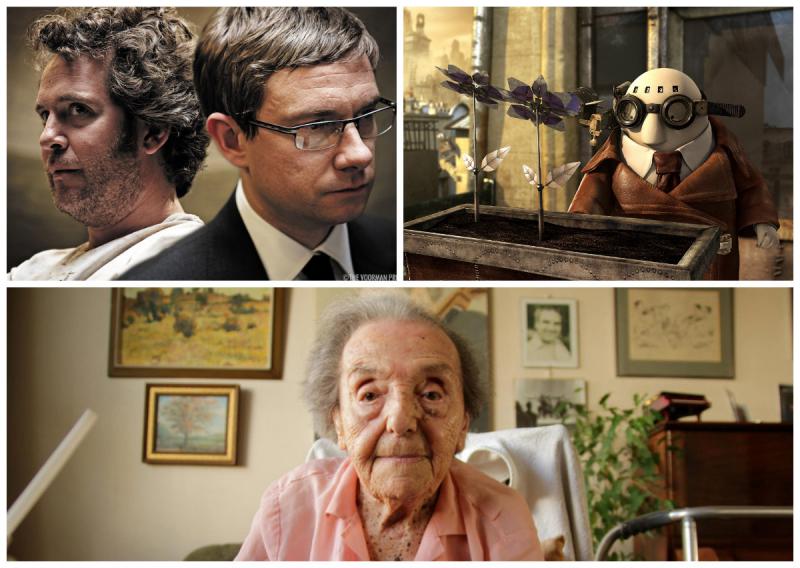 Updated 2/9 to include a review of Prison Terminal.
In previewing all of the short films that have been nominated for the 2014 Academy Awards this season, I must give a shout out to film programmers here and around the world. I don't know how you guys do it, but trying to watch an amalgam of films (short and feature length) and deciding which you like best makes my brain turn to oatmeal.
Okay, so that's a little dramatic, but I have a new respect for both programmers and short filmmakers alike. To make a feature is an incredible feat, but to try and tell a story in under 20-30 minutes? The thought alone could make one's head spin. Thankfully, the Academy has already narrowed down which films they think are the cream of the crop, and it's easy to see why.
Animated Shorts
I've always been one to gravitate towards this category. Perhaps its the inner child in me longing to still watch Disney films, but I truly love the craft of the animation process and am fascinated to see how it is constantly evolving. Get A Horse! is probably the most recognizable name in this bunch, as it's the short that preceded this past year's Disney hit, Frozen. Although I always enjoy a good Disney short, my favorites of the bunch were Room on the Broom (United Kingdom), about a young witch and group of animal friends who have a daring adventure, and Mr. Hublot (France), about an eccentric robot man who finds his life changed upon taking in a robot dog.
Japan and the US are also represented in this category with the films Possessions, which follows a young Japanese man as he happens upon a magical shrine while lost in a storm, and Feral, which is about a young boy discovered in the woods and his re-entry into civilization.
Live-Action Shorts
Five amazing international shorts make up this category. Although length has no influence on me as an audience member, I am still always blown away by stories that can be told in under 10 minutes. Perhaps this is why Do I Have To Take Care of Everything? (Finland) was my favorite out of this bunch. The premise is simple: a family is late for a wedding and has to get there on time; the following 7 minutes then take us on a hilarious ride. Denmark's Helium is a touching story of a young cancer patient's journey into the afterlife, while others like France's Just Before Losing Everything take you on a suspenseful escape from a woman's abusive husband.
The film I think will catch most people's attention is the UK's The Voorman Problem. Starring famous British actors Martin Freeman and Tom Hollander, the story follows a psychiatrist's (Freeman) meeting with an estranged mental patient (Hollander), who believes himself to be a god. Not only was this the most "out there" of the live-action shorts, it also had that sort of mysterious Sherlock vibe to it. Definitely one to catch.
Documentary Shorts
This specific category can be very hard to hold an audience. If you're not fully invested in the doc's subject, you can lose interest pretty quickly no matter the length of the film. I was pleasantly surprised, though, to find myself captivated in each of these stories, each so different from the next.
The Lady In Number 6 (Canada) really reeled me in as it told the story of a 109-year-old Holocaust survivor who still plays the piano every day. Facing Fear (US) told the story of two men who were involved in a hate crime, only to meet again almost 30 years later. Cavedigger (also from the US) follows Ra, a struggling artist who digs caves out of sandstone cliffs in New Mexico. Perhaps the most moving of the group was Karama Has No Walls (Yemen), which follows two young cameramen as they captured the horrific events of the 2011 Yemeni uprising on the Friday of Dignity. Out of all of the doc films though, the most haunting was Prison Terminal: The Last Days of Private Jack Hall, which chronicles inmate Jack Hall's last days before his death in a prison hospice program. Thought provoking and saddening, this film makes you consider the value of human life, no matter what crime a person has committed.
The films will be screening in Austin starting today. You can catch all three categories at Violet Crown, as well as the Animated and Live-Action categories at the Alamo Drafthouse Slaughter.
[The photos above are stills from the films The Voorman Problem, Mr. Hublot and The Lady In Number 6.]