Lone Star Cinema: Screen Door Jesus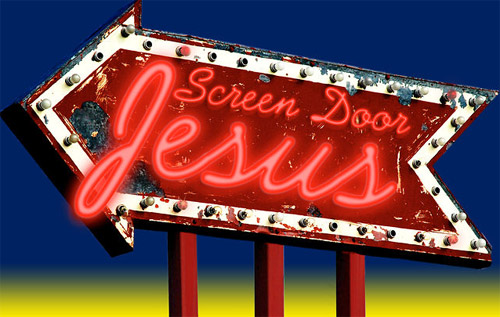 According to the faithful, images of Jesus have appeared on many objects -- tortillas, turtles and moldy drywall, to name a few. One alleged appearance happened in 1969 in Port Neches, Texas, where followers of the J-man claimed to see his likeness on the screen door of a house. The image attracted hordes of true believers and curiosity seekers until the owner tired of the crowds and removed the door.
This bit of Southeast Texas lore inspired Port Neches native Christopher Cooke to write the acclaimed anthology Screen Door Jesus & Other Stories, which filmmaker Kirk Davis adapted for his debut feature Screen Door Jesus. The 2003 film is an uneven but largely accurate look at religion in a small East Texas town.
Screen Door Jesus weaves many loosely related story lines into a narrative about religious fervor and religious doubt. The film's central story involves Mother Harper (Cynthia Dorn), who sees Jesus on the screen door of her home. Her front yard becomes a Mecca of sorts for local Christians, dozens of whom spend day after day praying before the image.
As Mother Harper deals with madding crowds, devoutly nonreligious Sheriff Lou Dawson (Myk Watford) pursues an awkward romance with devout Christian Sharon (Alaina Huffman). Meanwhile, grandparents Verna Lynn (Anjanette Comer) and Earl Cunningham (Guich Koock) quarrel over their grandsons' religious indoctrination. (A ridiculously conservative Christian, Verna Lynn only recently allowed television in their home. Earl has plenty of use for TV, but none whatsoever for religion.)
Banker George Herbert (Cliff Stephens) accuses his son of being racist, but then confronts his own prejudices and questions his Christian values when he denies a loan to a black member of his church, Harvey Collins (C. Anthony Jackson). And rebellious teen Robroy Conroy (Eugene P. Williams) has his own faith-related problems: When his mother becomes deathly ill, his family leaves her recovery to the Lord and refuses to take her to a hospital.
The film's most amusing story involves wannabe country-music star Duane (Mark Dalton) and his sometime girlfriend Ronnette (Scarlett McAlister). The two fight constantly, sometimes about religion but mostly about Ronnette's flirtations with other men. Ronnette also is involved with newspaper editor Abner Huckaby (Earl Poole Ball) in a scheme to entrap the town's corrupt mayor, Roy Huckaby (Richard Dillard).
Lots of stories indeed -- and these are only the major plot threads in Screen Door Jesus. There are others, and therein lies the movie's fundamental problem: It's a very busy film, so busy that it never delves deeply into its themes or fleshes out its dozens of characters.
The stories Screen Door Jesus tells are all interesting and genuine, but not terribly satisfying. There is plenty of dramatic potential in the eternal conflict between the dictums of religion and the freedoms of secularism, between the comfort and optimism of faith and the painful realities that lead believers to question their faith. Screen Door Jesus shows us this conflict in many forms, but does so only superficially, without the profundity of a truly meaningful film. We know faith is central to the characters' lives, but why? The film never tells us or lets us see the world through the eyes of the faithful. It observes -- and accurately so -- but never explores.
Another problem with Screen Door Jesus is its wildly uneven tone. The mood careens between farcical comedy, tragic drama and surrealism, three distinct atmospheres that mix well only in very skilled hands. Davis obviously had great intentions when he attempted to blend these moods and capture the complexities of faith, but the result is an overly ambitious, unpolished rookie film that falls short of its lofty goals.
Then again, Screen Door Jesus works well in other ways. Some of the scenarios are very funny. With a strong ensemble cast, the acting is a few notches above the scripting and directing. Comer (The Loved One) is especially good as the archaically pious Verna Lynn, and McAlister shows great comic timing as the dangerously sexy Ronnette. Williams is also terrific as Robroy, a teen shown no love from his faith-crazed family or the racist townsfolk.
The movie's portrayal of its East Texas setting is dead on, from rowdy honky tonks to rowdier church services to gaudy patriotism and generational conflicts. Along with the solid acting, the authentic milieu makes Screen Door Jesus more watchable than it should be. It's an imperfect but interesting portrait of Bible Belt life.
Screen Door Jesus is available on a DVD with a few nice extras -- a director's commentary track, poster collection, stills gallery and theatrical and festival trailers.
Austin/Texas connections: Screen Door Jesus was filmed in Lockhart and Austin. Anjanette Comer is from Dawson. Guich Koock is from Austin. Scarlett McAlister is from Dallas. Earl Poole Ball lives in Austin. More than a dozen Texas actors appear in minor roles. Duane's band, the Renegade Ohms, is the Austin band Back Porch Mary.