What's Streaming: Different Shades of Love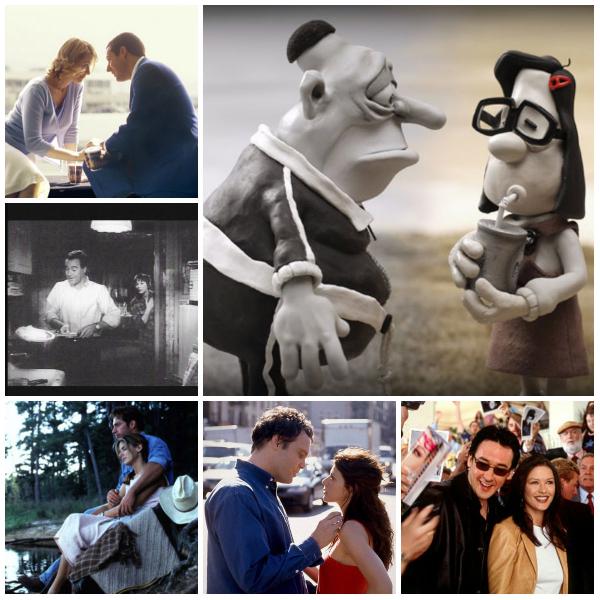 For being such a short month, February has a lot going on. With Black History Month, Valentine's Day and Groundhog Day, this month seems to encapsulate feelings of reflection, hope and love all in just a few short weeks. I started my film watching for this month in a cheery, romantic comedy mindset. "I'll write about finding love! And happily ever afters!" I thought, focusing on Valentine's Day as my main element.
After a day or two of being on a romcom kick, I finally calmed down, took a breath, and looked at all of the people that I know in my life. I thought of the love of dear friends near and far, of parents, of the people lost over the years. It can be so easy to think that a romantic type of love is all that this month celebrates... but really, it's all of the love you share with others in your life.
Single, in a relationship, married -- whatever your status is, take the time to focus on the different kinds of love you have in your life. Maybe these films will help you to remember some of them. Happy February!
Mary and Max -- Claymation films for a mature audience are hard to come by. When I saw this film listed as a recommendation for me on Netflix, I knew something about it would stick with me. One of my favorite themes in film is the unlikely friendship story; out of all the varieties of love, this is perhaps my favorite. This story (based on true events, I might add) follows Mary (Toni Collette), a young Australian girl who has no friends and a lonesome home life. Out of luck -- or perhaps fate -- she happens upon the address of Max (the incredible Philip Seymour Hoffman), a fortysomething New Yorker living with Asperger's syndrome. Through sending each other letters and gifts, the two become the best of friends, forming an unlikely friendship that remains strong for many years. This is perhaps my favorite of the picks this month, and in some small way my tribute to Mr. Hoffman's brilliant acting career. Available on Netflix, Amazon Instant and iTunes
Happy Accidents -- I think it's safe to say that many of us have spent time with someone outlandish. We're not sure what attracts us to this person, but their outlook on life makes us see things in a different way. Sometimes it's for the best, and sometimes it's just plain crazy. This is the situation that Ruby (Marisa Tomei) finds herself in. Told through her recounting her relationship to her psychiatrist, we learn that Ruby's boyfriend Sam (Vincent D'Onofrio) isn't just a bit crazy -- he thinks he's from the future and can save Ruby from dying. Bringing truth to the phrase "Love is madness," Happy Accidents makes you wonder what brings you to find the person you're meant to be with: Luck, or destiny? Available on Netflix, Amazon Instant and iTunes
America's Sweethearts -- I must give credit to one of my former college roommates for bringing this film to my attention. She always recommended it to me, and it only took me eight years to finally sit down and watch it (should have listened to you, Katie!). If you're looking for a quirky, fun romantic comedy this Valentine's Day, this film might just be for you. We start off by learning about Gwen (Catherine Zeta-Jones) and Eddie (John Cusack), two Hollywood actors whose relationship was known as one of the most romantic of all time... The key word being "was." We catch up with them post-breakup, Gwen having moved on while Eddie suffers constant mental breakdowns in rehab. Having not seen each other for some time, the two are paired back up for a major film premiere. Playing on the world of hilarious Hollywood mishaps, unrequited love and Julia Roberts in a fat suit, this comedy is sure to warm your heart. Available on Netflix, Amazon Instant and iTunes
The Apartment -- Sometimes love isn't quite as obvious as fairy tales and movies make it seem. Maybe it's right in front of our face, but we're so caught up in someone else (or even our own lives) that we fail to notice it. That is what I love about Billy Wilder's The Apartment: Meeting two characters who are struggling with their own lives, but eventually come to help each other out. Such is the case when Calvin (Jack Lemmon), an insurance salesman who lends his apartment out (against his will) to his bosses, is forced to take care of Fran (Shirley MacLaine), one of their mistresses. As he nurses her through a very rough time, the two get to know each other more closely than anyone else in their lives. One of the original posters for the film advertises it as being "unlike any other movie -- love-wise, laugh-wise or otherwise-wise!" Available on Netflix, Amazon Instant and iTunes
Punch-Drunk Love -- I wanted to include a romance film that can make you feel slightly uncomfortable. This is how I felt about Paul Thomas Anderson's Punch-Drunk Love: I rooted for the main character, Barry (Adam Sandler), but I couldn't help but feel uneasy whenever he was on screen. Living a doldrum life full of rage spasms and constant over-analyzing, Barry's life is changed when he meets Lena (Emily Watson), a kind woman who sees him as he is instead of a bleak, lost cause. Anderson's films always have some cringe factors to them, and this one is no different in tone. I was, however, intrigued by Barry and how flawed his character was. It gives hope that even those of us who think we cannot ever be loved have someone out there for us. We all have problems, but those problems seem to float away when the right person comes along. Available on Netflix, Amazon Instant and iTunes
Hope Floats -- I'll consider this my girly, cheesy romantic film pick of the bunch. Shot in lovely Smithville, Texas (as well as some parts in Austin!), the film follows Birdee Calvert (Sandra Bullock) as she struggles to put her life back together once she discovers that her husband has been cheating on her with her best friend. After moving back in with her mother Ramona (Gena Rowlands), Birdee must now figure out how to support herself and her daughter Bernice both financially and emotionally. What struck me about this film was not only the focus on the romantic relationship (with Harry Connick Jr., no doubt), but the exploration of the relationship between a mother and daughter. If you're looking for a teary-eyed, "aww"-inducing film, this is the pick for you. Available on Amazon Instant and iTunes
[The photographs in the above collage are stills from Mary and Max, Happy Accidents, The Apartment, America's Sweethearts, Punch-Drunk Love and Hope Floats.]