Movies This Week: January 31-February 6, 2014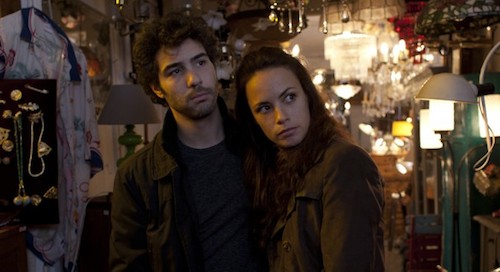 Congratulations to our Austin Film Society family on their beautifully spruced-up website and a massively successful launch for Richard Linklater's Jewels In The Wasteland 35mm series at the Marchesa last week. I was part of the sold-out crowd that got to enjoy a beautiful print of Scorsese's The King Of Comedy and participate in a lively post-film discussion. It continues on Wednesday night with Fassbinder's Veronika Voss and if you're interested in catching these great 80s gems in the weeks ahead, you should probably get used to buying tickets in advance to avoid disappointment.
More AFS at the Marchesa: This weekend, you can catch Godard's Week End in 35mm. It plays tonight and Sunday afternoon, while SXSW favorite 12 O'Clock Boys also screens this evening. Werner Herzog's 1979 Nosferatu was recently restored and it plays on Tuesday night at the Marchesa in digitally restored DCP [ed. note, not in in 35mm as we originally reported] -- it will also have a few more showtimes next weekend. And Sunday night, Austin filmmaker Clay Liford presents the 1982 cult science-fiction classic Liquid Sky with filmmaker Slava Tsukerman in attendance.
Moving over to the Alamo Drafthouse, 12 O'Clock Boys will also screen on Saturday and Sunday at the Alamo Ritz. It's the 50th Anniversary of Kubrick's Dr. Strangelove and the Ritz has it on Monday, Tuesday and Thursday for select showtimes. Alamo Slaughter and Alamo Lakeline both have a Groundhog Day Dinner Party on Saturday night with a "pie three times" menu and Alamo Slaughter has a Cinema Cocktails event for Billy Wilder's Sabrina on Wednesday. Finally, the Alamo Village begins a month-long celebration of Hayao Miyazaki's groundbreaking animation with a subtitled, 35mm print of My Neighbor Totoro on Saturday and Sunday. Having caught some of these prints about a year and a half ago, I highly recommend you experience as many of these films on the big screen as you can.
The Paramount Theatre continues their 100th anniversary celebration on Wednesday night with D.W. Griffith's 1916 silent masterpiece Intolerance. Clocking in at 170 minutes, Griffith employed over 3,000 extras for this epic tale that stars Lillian Gish and Mae Marsh. This weekly series will be exploring silent cinema through early April.
Movies We've Seen
Labor Day -- Jason Reitman is already working here in the Austin area shooting his next project, but his latest completed effort rolls out nationwide today. It played locally at the Austin Film Festival a few months ago and, unquestionably, Paramount had high hopes for awards season. For better or worse, the film ended up getting a mixed reception from critics and a Best Actress nod for Kate Winslet at the Golden Globes has been its sole consolation prize. An adaptation of Joyce Maynard's 2009 novel, Labor Day also stars Josh Brolin and Tobey Maguire. Marcie has our review and praises Winslet's "impeccable performance." (wide)
The Past (pictured above) -- In 2011, A Separation was one of the most acclaimed films of the year and director Asghar Farhadi was honored with the Academy Award for Best Foreign Language Film. There are similar themes of broken relationships and divorce in The Past, but things turn quite a bit darker this time around. Berenice Bejo (The Artist) won the Best Actress prize at Cannes last year for her performance as Marie, a woman living in France who is waiting for her Iranian husband Ahmad to come visit so that they can officially be divorced. She has moved on, but the emotions are more raw for him. Not many people seem to agree with me, but I found it to be even more compelling than A Separation. Caitlin reviewed the movie for us and says that it has "a narrative that explores the tough and gritty aspects of human tragedy make this a fine, haunting film." (Regal Arbor)
Also Opening In Austin
That Awkward Moment -- There's a new regime over at Focus Features, which formerly served as the specialty division of Universal Pictures. The company has been merged with FilmDistrict and their first big new release proves they are no longer exclusively serving up arthouse fare. This raunchy comedy with Zac Efron, Miles Teller and Michael B. Jordan has earned abysmal reviews, but may prove to be smart counter-programming to the Super Bowl this weekend as a large female and gay audience head out to the movies. (wide)