Flashback Photos: Meet the 2014 Texas Film Award Honorees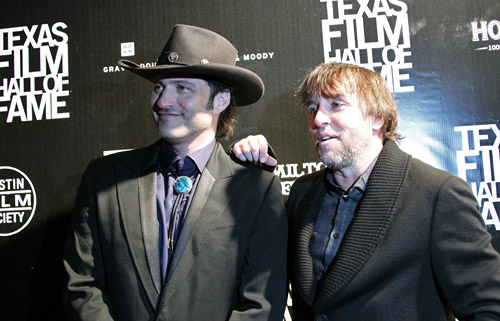 Yesterday, the Austin Film Society announced honorees for the 2014 Texas Film Awards, previously known as the Texas Film Hall of Fame Awards. The gala event takes place March 6 this year -- the night before SXSW Film begins -- and tickets are available both for the awards dinner and ceremony, and for the glitzy (and more affordable) after-party.
I've been to the awards (on the red carpet, at the ceremony or both) since 2008, and many of these honorees and presenters have attended before. Others have visited Austin, if not to the gala event. So I'm presenting the emcee, honorees and presenters announced yesterday in photographic format (whenever possible), to add to the fun. Keep reading and you'll find out why I chose that top photo.
First of all, this year's emcee is actor Luke Wilson. At the 2008 Texas Film Hall of Fame Awards, Wilson presented an award to Austin filmmaker Mike Judge. Here's Wilson on the red carpet that year: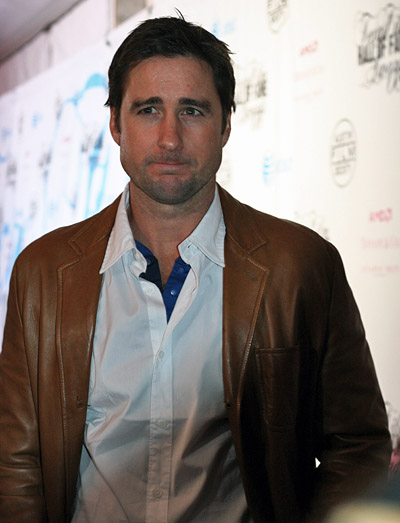 Filmmaker David Gordon Green, who now lives in Central Texas, is one of the Texas Film Award honorees. He screened Prince Avalanche at SXSW last year. He also screened Your Highness at Alamo Drafthouse back in 2011 with that film's star/co-writer, Danny McBride, who will be presenting Green with his award on March 6. Here they both are from the Your Highness screening:
(Yes, that bearded wizard is Austin film programmer and producer Zack Carlson. He does go above and beyond.)
Austin Chronicle and SXSW co-founder and film producer Louis Black will receive the Lifetime Achievement Award at the Texas Film Awards this year. He's presented awards in previous years. Here he is at SXSW 2013, moderating a Q&A for the documentary Getting Back to Abnormal with the filmmakers, including Paul Stekler.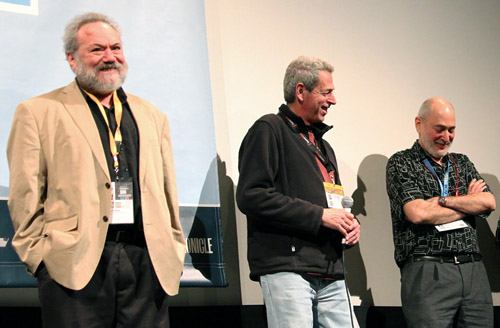 The Star of Texas Award is presented to a notable Texas film or TV show with an ensemble cast. This year, the award will go to the 1996 movie From Dusk Till Dawn. The film's director, Robert Rodriguez, is confirmed to accept the award (now you know why his photo is at the top of the page, with Austin filmmaker/AFS co-founder Richard Linklater.) We don't know yet if anyone else involved with the film will be at the awards gala (my hopeful prediction: SXSW screens Hellion and Juliette Lewis turns up), but perhaps for luck, here's a photo of the movie's co-writer/actor Quentin Tarantino, from last year's awards ceremony, presenting the Star of Texas Award to Linklater's Dazed and Confused: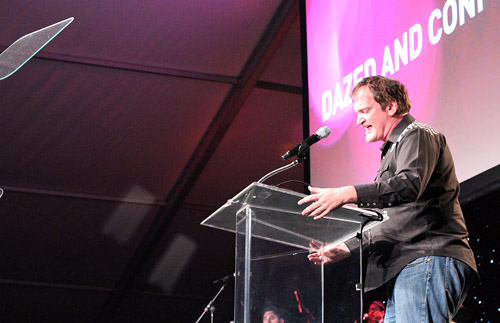 Actress Amber Heard, who is originally from Austin, Texas (and has been in Green's Pineapple Express and Rodriguez's Machete Kills), will receive the Rising Star Award.
Musician Mac Davis, who is from Lubbock (and has appeared in North Dallas Forty, Wilson's The Wendell Baker Story and the TV show King of the Hill), will receive the Soundtrack Award. Priscilla Presley will present the award to Davis.
AFS will likely announce a few more presenters and other Austin Film Awards news before the March 6 festivities, and we'll keep you posted. With photos, natch. Slackerwood is a Community Partner for this year's awards so I will be there, and hope to see some of you.
[Photo credit: All photos by J. Kernion, all rights reserved except for "Your Highness" by Jack Plunkett for Alamo Drafthouse, found on Flickr, used with permission from Alamo Drafthouse.]