Quick Snaps: Back to Back to Evil Back in 1999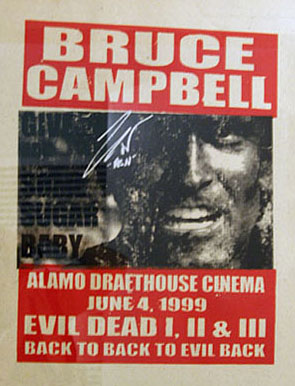 I was walking past this poster on the way to the bedroom and realized that it's been exactly 10 years since I bought it, at one of the big memorable movie events I've ever attended.
I wasn't seeing many movies in 1999, but when I heard that Alamo Drafthouse (then only one location on Colorado) was hosting a late-night triple-feature of all the Evil Dead movies, I actually stood in a line to buy tickets as soon as they went on sale. My friend Jay and I could not resist. The triple-feature started at something like 10 pm, and I believe that at the time, Alamo did seat assignments for special events. Alamo also printed special tickets for these events -- I found mine last week among some similar tickets for other events, and someday I will have to put all them in a collage to share.
We got to the theater and found these posters in a stack for sale -- they looked like they'd been made out of newspaper pulp. I mean, seriously, I thought they could fall apart at any moment. But I was caught up in the spirit of the event and I bought one anyway. The poster was too thick to fold, so I leaned it on one of the posts near our seats as we sat through all three glorious movies.
Bruce Campbell was a good sport and not only had he signed the posters, but he stuck around for at least two of the three movies that night, telling stories and answering questions between the films. He's returned to Alamo a number of times since then, and I even interviewed him on his last visit, but there was something especially intimate and chatty about that first triple-feature event.
The print of Evil Dead had actually come from Raimi's collection as no good prints were then available elsewhere. Alamo showed all of Army of Darkness and then showed the alternate (original) ending, and the event didn't end until something like 4 am. I loved walking downtown at that hour when everything seemed deserted, a practice I cultivated for many more years at other late-night Alamo events. But that was the first.
Jay cautioned me to frame the poster as soon as possible or the humidity would ruin it. I bought the cheapest frame I could find at Hobby Lobby, hacked off the bottom of the poster (which was unprinted) so it would fit, and wedged it in there. I wasn't able to find anywhere to hang it until a few years ago, when my delightful husband pointed out that we had space in the hall across from our bedroom. It probably doesn't fit the decor, but who cares.
I was talking with Tim League recently and mentioned the poster, which also hangs in one of the theater corridors at Alamo South. Tim told me he'd made the posters himself -- it was one of his first attempts at creating prints, and they were not top quality, but he'd been happy enough to make something they could sell. So I feel like we have a neat little bit of Alamo history on our wall.