Slamdance Review: La Bare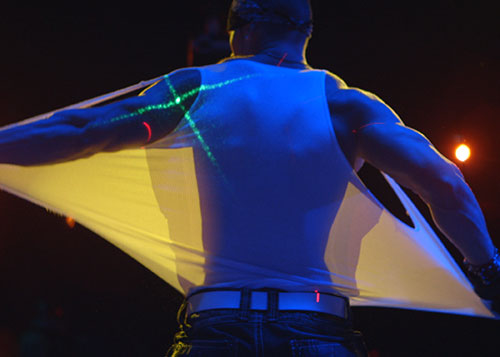 Preconceived notions about the male entertainment industry can drive some viewers away from film content, and I myself had little interest in seeing Magic Mike when it was released in 2012. However, a timely discussion with local filmmaker Richard Linklater about Matthew McConaughey's stellar roles of that preceding year led to his recommendation of Magic Mike due to the depth of McConaughey's performance as male strip club owner Dallas.
Joe Manganiello co-starred as Big Dick Richie in the film, which became a smash hit. Manganiello was so inspired by the discussions about the film's related topics of "objectification and post-feminist relations between the sexes" and interest in the characters that he and his brother Nick Manganiello decided to capture the men's stories themselves. The 3:59 Incorporated production team went to the birthplace of male entertainment -- the first La Bare club in Dallas, Texas, which has been open since 1978 -- resulting in their documentary, La Bare.
The men of La Bare are each unique and engaging in their own right. First up is the veteran Randy "Master Blaster" Ricks, a self-professed "205 lbs of twisted steel and sex appeal" who has danced at the club since its opening. His elderly mother Mary Lou supports him in his endeavors, even helping to run a side strip-o-gram service. Backing up Randy are the younger generation who go by first-name-only nicknames -- "Channing," "Chase," "Cesar," for example -- and who come from various backgrounds, including ex-military.
Some are fathers, some are in committed relationships, and some are experiencing the freedom and local celebrity status of the male entertainment industry with plenty of temptation. What Manganiello's camera captures is not only the joy and adventure that these men offer to women on a nightly basis, but more importantly the love and loss that these men experience as one of their own is gunned down a few weeks before filming. Many of the film's characters open up about the senseless death of Ruben Riguero aka "Angelo," and the anger and frustration in regards to the acquittal of the assailant.
Filmed entirely in Dallas, the cinematography of La Bare ranges from well-lit and well-framed interviews with its main subjects to intimate cinema verite within the club as well as their homes. In his feature debut, editor Chris Groban weaves together an engaging story with both interviews with the male entertainers and clientele and dance sequences from within the club itself.
La Bare is an enlightening and thought-provoking film that takes viewers behind the scenes of an industry that many too easily dismiss. This documentary is well worth watching for its effective storytelling and respect given to its subjects.
Check out the trailer for La Bare below:
La Bare was acquired by Main Street Films for North America distribution, and will have a limited theatrical release this summer.