Sundance 2014 Dispatch: Familiar Texas Faces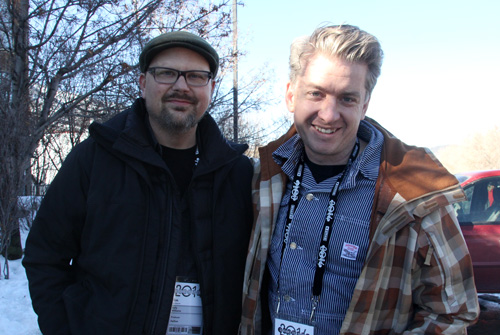 The 30th Sundance Film Festival is well underway, with plenty of familiar faces from Texas. My first day in Park City was relatively low-key, as I settled into my lodging and re-acquainted myself with the free public transportation and picked up the essentials -- credentials, groceries and booze. I opted out of opening-night parties to plan my activities for Day Two, knowing I would have a full day of interviews, premieres, receptions and screenings. My "sleep is the enemy" fest mantra has been replaced with the "it's a marathon, not a sprint" mentality.
Friday marked the premiere of the Austin feature film Hellion. I briefly saw producer Kelly Williams as he was entering the theater -- pictured at top with Alamo Drafthouse and Drafthouse Films founder Tim League. League and I spoke about what films we had seen so far and especially those we enjoyed -- quite a common interaction between festivalgoers here at Sundance.
League has been quite busy now that Drafthouse Films' The Act of Killing has been nominated for an Academy Award for Best Documentary Feature. Directed by Austin-born Josh Oppenheimer, this chillingly surreal documentary about former Indonesian death squad members re-enacting killings for the camera has received international acclaim.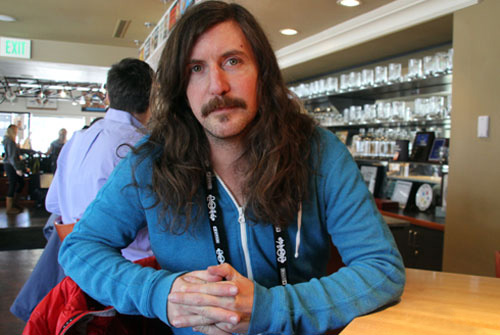 I began my second day at Sundance with producer Toby Halbrooks (pictured above), who wrote and directed the short film Dig. We spoke at length about what it's like for him to be part of the Sailor Bear Productions with friends David Lowery and James M. Johnston. Halbrooks mentioned that one of the advantages of working with Lowery and Johnston is the support they provide to one another during their filmmaking process.
Halbrooks isn't new to the Sundance Film Festival, as last year he attended in support of Ain't Them Bodies Saints and Upstream Color. Check back later for more from my interview with Halbrooks.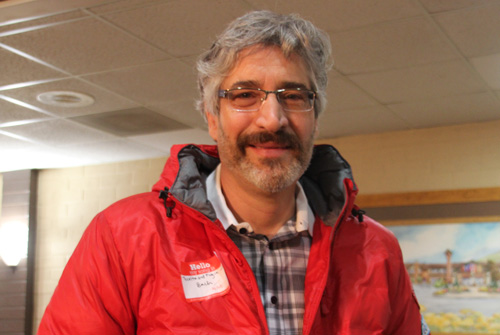 After my interview with Halbrooks I watched one of my "must-see" list movies, the documentary Alive Inside. Reportedly this film about the use of music to release long-buried memories in people with Alzheimer's and other degenerative diseases or mental disorders was picked up for distribution.
More than once I felt the urge to get up and leave the theater due to the evocative nature of this film, which both educates and enlightens audiences. Associate producer Jonathan Clasberry is a former Austinite and graduate of The University of Texas at Austin.
I later met with director Michael Rossato-Bennett (pictured above) to discuss his film in more detail, and we had a profound conversation about the influences of music on us all. Check back later for my full review and interview with Rossato-Bennett.
I wrapped up the day with the Film Texas reception hosted by the Texas Association of Film Commissions, with representatives from the Dallas, San Antonio and Houston Commissions. Several Texans were in attendance, including the filmmakers behind No No: A Dockumentary, Kumiko, the Treasure Hunter, Rat Pack Rat and more. Check back soon for photos.
[Photo credits: Kelly Williams and Tim League, Toby Halbrooks, and Michael Rossato-Bennett by Debbie Cerda, for use upon request with accreditation.]