Movies This Week: January 17-23, 2014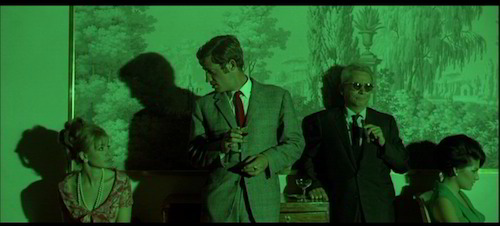 The Austin Film Society continues their terrific Godard vs. Truffaut series with a 35mm print of Godard's 1965 Pierrot Le Fou (pictured above). It plays at the Marchesa tonight and again on Sunday afternoon. New release Symphony Of The Soil plays on Wednesday night for Doc Night and current Essential Cinema series on contemporary Russian films has a 35mm print of Brother on Thursday.
Specialty programming at the Alamo Ritz this week includes Terry Gilliam's Brazil, which is playing in a 35mm theatrical print at the Ritz on Saturday afternoon and Wedneday evening. FYI - there are additonal screenings this month at other Alamo locations that are playing in a DCP of the extended European cut. The Cinema Cocktails series has concocted some special beverages to go along with Fred Astaire and Ginger Rogers in Top Hat on Sunday night. Music Monday also serves up their annual Martin Luther King, Jr. Day screening of James Brown Live at the Boston Garden, recorded less than 24 hours after King's assassination.
You may be looking to catch up on the nine nominated films for Best Picture over this holiday weekend. If so, you can still find American Hustle, Her and The Wolf Of Wall Street playing wide in most local theaters. The other nominees are still on the big screen in the area, but they're playing in far fewer locations. Here's where you can find them:
Captain Phillips is down to just limited showtimes at the Cinemark Tinseltown South and Regal Gateway.
Dallas Buyers Club can be found at the Cinemark Tinseltown South and Regal Arbor.
Gravity is still playing (in 3D only) at Cinemark Southpark Meadows, Regal Gateway and Regal Metropolitan.
Nebraska is left only at the Regal Arbor.
12 Years A Slave and Philomena are both playing at the Regal Arbor and Regal Metropolitan.
Movies We've Seen
Jack Ryan: Shadow Recruit -- Kenneth Branagh brings Tom Clancy's hero back to life with this origin story reboot that updates the role previously played by Harrison Ford with Chris Pine now in the lead. Advance word on the picture is quite good and J.C. is going to have our review posted this weekend. (wide, also screening in digital IMAX)
Also Opening In Austin
Devil's Due -- January tends to be a dumping ground for horror films as counterprogramming for younger audiences since the Oscar nominees are otherwise taking over multiplexes. Here we have (yet) another found-footage flick with a mostly unknown cast for genre fans. (wide)
The Nut Job -- This new animated feature is from director Peter Lepeniotis, who previously was an animator on Toy Story 2. He brings us a story of a squirrel trying to survive in a big city, and features the voice work of Will Arnett, Maya Rudolph, Liam Neeson and Katherine Heigl. (wide, 2D and 3D)
Ride Along -- Think Like A Man director Tim Story works again with Kevin Hart and teams him up with Ice Cube in this PG-13 comedy. (wide)
Wrong Cops - This raunchy comedy is the third full-length feature from Quentin Dupieux (Rubber, Wrong). The cast inexplicably includes Marilyn Manson, Grace Zabriskie from Twin Peaks and Eric Roberts. (limited evening screenings at Alamo Slaughter Lane)