Review: The Invisible Woman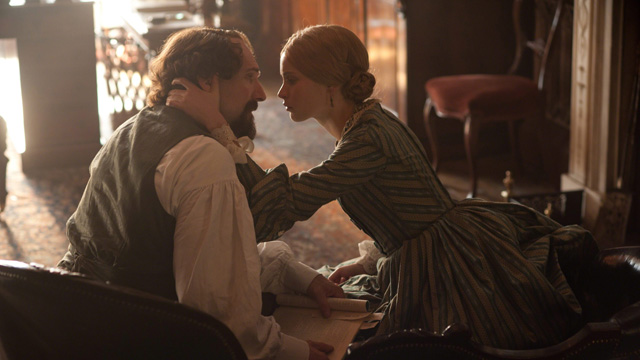 I've always felt that there's something quite beautiful and haunting about British cinema. Actor/director Ralph Fiennes, in his second time working behind the camera, shows us just how true that can be with The Invisible Woman.
The film's trailer would lead one to believe that this is a story about a hidden romance that eventually blossoms and embraces our main characters. It is hard to believe that the great author Charles Dickens had a secret life, hiding one woman away for so long. Research proves, however, that this is actually fact... for the most part. (The story itself is based on the book The Invisible Woman: The Story of Nelly Ternan and Charles Dickens by Claire Tomalin.)
Fiennes is at his acting best, although one wouldn't expect anything less from him. His portrayal of Dickens causes one to raise eyebrows as he ping-pongs back and forth between being a jovial, brilliant artist to being a man torn between his desires and husbandly duties. This struggle is made clear when he meets Nelly (Felicity Jones), a beautiful 18-year-old actress who is enamored with Dickens' work. One might question whether his attraction to her is based on love or of flattery; perhaps it is a bit of both.
Although The Invisible Woman is romantic, it is hard to swallow at times. The way Dickens treats Nelly over the course of their relationship is quite hurtful, leaving you wondering why she even stays with him at all. Although the film's imagery is beautiful, there are many "open" moments where the narrative seems to lag and the cinematography takes the lead. Perhaps Fiennes intended for us to use those moments as a reflection of the relationship onscreen.
Other great performances from the ensemble include the always charming Kristin Scott Thomas as Nelly's mother Frances, and Joanna Scanlan as Dickens' wife Catherine, who delivers perhaps the most moving and heartbreaking performance in the movie. It is clear that Fiennes has a great working relationship with all of his actors, as well as his visual team. The Invisible Woman doesn't shine as one of the greats, but there is still a lot of depth. We can only wait to see what Fiennes will unveil from behind the camera next.