Ready, Set, Fund: 'The Father,' 'Arvind' and More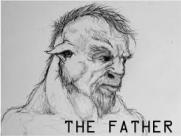 Ready, Set, Fund is a column about crowdfunding and fundraising endeavors related to Austin and Texas independent film projects.
Debbie (that lucky gal) is busy covering Sundance and Slamdance this month, so in her place I'll be taking a look at some of the Austin-related crowdfunding projects currently reaching for their goals.
First, speaking of Sundance and crowdfunding, this year 20 Kickstarter-funded features, shorts and documentaries will be featured at the festival. According to Kickstarter, this is the third year in a row that over 10 percent of the festival lineup has been made up of Kickstarted projects and several, including this year's Academy award-nominated The Square, have gone on to much success. And that doesn't count any projects that used other crowdfunding site, like Indiegogo.
Debbie will be discussing a few local crowdfunded Sundance players, including official 2014 selection No No: A Dockumentary, in the coming days.
Now, here's a look at a few Austin and Texas projects currently seeking funds for completion:
The Father -- This "throwback '80s sci-fi film" directed by Austinite Stephen Belyeu (Dig) tells the story of an extraterrestrial father and son who have crash-landed on Earth (pictured above). Filmmakers are seeking funding specifically to assist with creating the practical special effects for the movie, and hope to reach their goal in time to shoot during the short-lived Texas winter. (Kickstarter, ends Jan. 26)
Arvind -- This Austin-based production has already met its Kickstarter goal; however, the campaign is still active for a few more days and additional funds will go toward various stretch goals. From award-winning director Evan Roberts (33 Teeth and Yeah, Kowalski), this film focuses on a teenage boy who writes a play from the perspective of his mother, who spent time in prison for trying to poison Arvind and his brother. Take a look at the teaser below. (Kickstarter, ends Feb. 7)
Ariel -- John Hidalgo is a student in Austin Community College's Radio, Television and Film program and his proposed short film project features a young woman who is challenged by a group of attackers. Hidalgo hopes to eventually submit the completed short to major film festivals. (Indiegogo, ends Feb. 10)
Cottonwood -- This feature film is set in West Texas in 1937 during the Dust Bowl. It will star Louis Gossett, Jr., Anthony Michael Hall (who's co-producing) and Alison Eastwood and explores issues of race, class, family and hardship in the vein of To Kill a Mockingbird. The project has completed the development stage and is now seeking funds so that a director and an an additional A-list actor can be secured. Watch the trailer below. (Indiegogo, ends Feb. 15)
Have a project that you would like to be considered for an upcoming "Ready, Set, Fund," feature about crowdfunding and related fundraising endeavors for Austin and Texas independent film projects? Contact us with the subject line "Ready, Set, Fund."