Preview: 'Citizen Architect' and Fundraising for the Rural Studio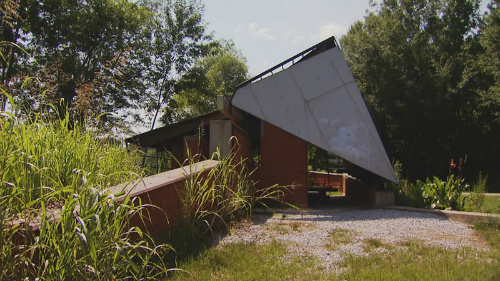 The Rural Studio is a program through Auburn University started by the late architect Samuel Mockbee. Architecture students live and work in rural, empoverished communities of Alabama, designing and building community projects and homes for some residents using donated and recycled materials.
The Austin Film Society is hosting a special screening Tuesday, Jan. 14 of Citizen Architect: Samuel Mockbee and the Spirit of the Rural Studio to raise funds for the Rural Studio on the 20th anniversary of its founding. [tickets] The film, directed by Austinite Sam Wainwright Douglas, peers into parts of Mockbee's biography while showing progress on a 2002 Rural Studios housing project for "Music Man."
Interview subjects in the documentary include academic figures (UT Austin's Stephen Ross among them) who praise Mockbee's program for offering in-field learning. There are only a couple of dissenting voices -- a reluctant Alabama resident who says the Rural Studio has done nothing to help (until they build a fire station in his town) and a Yale professor/architect who has faint praise for Mockbee.
Citizen Architect provides an opportunity to see some of Mockbee's original sketches and artwork, and showcases a number of the Rural Studio's completed projects. A few of the more striking buildings are a chapel made of tires (Yancy Tire Chapel), the community center in the above still, and the Subrosa Pantheon -- the last designed by Samuel Mockbee and built by his daughter, as part of the Rural Studio, after his death.
[Still photo of Mason's Bend Community Center (WINDSHIELD CHAPEL), by Dutch Rall/Big Beard Films]