Movies This Week: January 3-9, 2014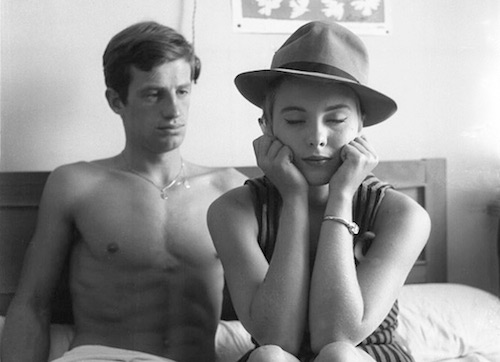 The new year may be here, but new movies are not. January is typically a dead zone for anything other than big studios burying genre pictures while rolling out potential Oscar nominees across the country. This weekend, there is only one new release and it's pretty strictly for horror fans. Everybody else should look into the amazing specialty screenings we've got on hand over the next week and maybe make a run to Vulcan Video or I Luv Video to ease into 2014 from the comfort of your couch.
You don't want to stay at home all weekend, because then you'd miss some very special local bookings. The Austin Film Society is launching a "Godard vs. Truffaut" series with Godard's Breathless (pictured at top) this weekend at the Marchesa. It screens in 35mm tonight and again on Sunday afternoon. I don't know why you'd want to take sides in this battle, but if you're new to these classics of the French New Wave, you need to check out several films before making up your mind. AFS will alternate between the two directors every weekend through the end of February. They've also got a new Essential Cinema series showcasing the last 20 years of Russian cinema. On Thursday night, you can see 2004's The Rider Named Death in a 35mm print, also at the Marchesa.
Per usual, the Alamo Ritz has some great programming gems to offer us. Raiders Of The Lost Ark is playing in 35mm tonight, tomorrow and again on Wednesday as part of the new "Alamo 100" series. Another new series called "Pop! Art! Film!" debuts with a double feature on Monday night with Batman: The Movie in 35mm paired with a digital screening of Who Wants To Kill Jessie? The theater is also paying tribute to the late Peter O'Toole with 70mm screenings of Lawrence Of Arabia tonight, tomorrow, Tuesday, Wednesday and Thursday.
Opening In Austin
Paranormal Activity: The Marked Ones -- The fifth installment of this found footage horror phenomenon promotes the screenwriter of films 2 through 4 (Christopher Landon, former Austinite and son of Little House On The Prairie's Michael Landon) to the director's chair. When you get this far into the sequel game, there's not a lot of crossover potential, but early buzz from genre sites like Dread Central looks positive. Press screenings occurred last night, so keep an eye out for reviews on other sites this weekend. (wide)