AFS Preview: Godard vs. Truffaut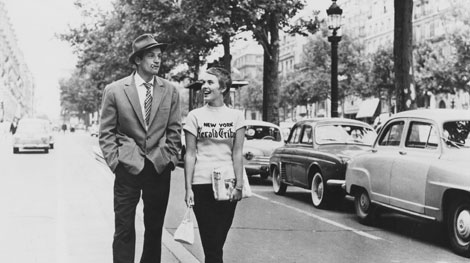 Jean-Luc Godard and Francois Truffaut, cinema legends and titans of the French New Wave, duke it out for the Austin Film Society's series "Godard vs. Truffaut" from Jan. 3 through Feb. 23 at the Marchesa Hall and Theatre.
But there's no need to take sides*, as various seminal works by each filmmaker are spotlighted biweekly. Discover your inner Francophile at 8 pm Fridays and 2 pm Sundays at the Marchesa.
Breathless (1960) -- Friday 1/3 [tickets], Sunday 1/5 [tickets]
The rules of cinematic composition are thrown out the window in Breathless, Godard's first feature-length film and one of the earliest of the French New Wave. A young petty criminal with delusions of grandeur drags his American girlfriend (Jean Seberg, whose haircut alone was influential) into his escape plot after killing a police officer.
The 400 Blows (1959) -- Friday 1/10 [tickets], Sunday 1/12 [tickets]
Truffaut's The 400 Blows became a defining film of the French New Wave. This Academy Award and Palme d'Or-nominated film follows 14-year-old Antoine Doinel (Jean-Pierre Leaud) in 1950s Paris. Frequently misunderstood by his parents and teachers, Doinel steals a typewriter from his stepfather's place of business in an attempt to finance his runaway. His stepfather turns him over to the police and he spends a night in jail with hardened criminals. According to my high-school English teacher, this film was an expose of the ill treatment of juvenile offenders in France.
Pierrot le Fou (1965) -- Friday 1/17 [tickets], Sunday 1/19 [tickets]
An unhappily married man runs away with his children's babysitter (Anna Karina) and ex-girlfriend to escape his bourgeois lifestyle, only to find that the woman is being chased by gangsters. The madcap duo go on a traveling crime spree through France that ends with explosive results.
Antoine and Colette (1962) and Stolen Kisses (1968) -- Friday 1/24 [tickets], Sunday 1/26 [tickets]
Antoine Doinel, to a great extent the alter ego of Truffaut, returns in this double feature: the film short Antoine and Colette, a romantic tete-a-tete between the two title characters, and the feature-length Stolen Kisses, which finds a more mature Doinel trying to adjust back to civilian life after being dishonorably discharged from the military... but love leads him astray once more.
Weekend (1967) -- Friday 1/31 [tickets], Sunday 2/2 [tickets]
Godard's black comedy, which includes Leaud, follows a rich married couple with tricks up their sleeves.
Bed and Board (1970) -- Friday 2/7 [tickets], Sunday 2/9 [tickets]
Directly following Stolen Kisses, Bed and Board finds hapless Doinel married and a soon-to-be father. While still struggling to find steady employment, Doinel begins a relationship with a Japanese woman.
A Woman is a Woman (1961) -- Friday 2/14 [tickets], Sunday 2/16 [tickets]
Celebrate Valentine's Day with Godard's tribute to American musical comedy, which re-teams the filmmaker with his then real-life wife, Karina. The film centers on the love triangle between a baby-obsessed exotic dancer, her lover and his best friend.
Love on the Run (1979) -- Friday 2/21 [tickets], Sunday 2/23 [tickets]
Set years after Bed and Board, Love on the Run is the final film in the Doinel cycle. He and Christine have since divorced and the now-published author again finds himself in a quandry of the heart when he reunites with his first love Colette.
*However, if you like taking sides, check out Kimberley Jones and Marc Savlov as they square off in the Austin Chronicle this week.