Review: Grudge Match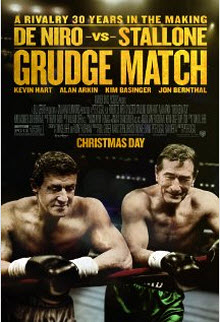 If you mention the names Sylvester Stallone and Robert De Niro and ask what their single best movie each is, eventually you'll come across more than a few people who will name Rocky (any of them, except for the fifth one) or Raging Bull. Those people wouldn't necessarily be wrong either, especially in the context of boxing movies. For a lot of people, the list of best boxing movies is topped one of the Rocky films and Raging Bull.
So when it was announced that Sly and Robert De Niro would be entering the ring once again in a film called Grudge Match, why was there so much concern? Oh, that's because it was going to be played out like throwaway comedy rather than an intense sports movie drama that could have been really great.
When boxing was at its height of popularity, two boxers ruled the roost, Bill "The Kid" McDonnen (Robert De Niro) and Henry "Razor" Sharp (Sylvester Stallone). The two light heavyweights dominated the competition, except each other. They each only had one loss in their careers and it was to each other. When it was decided they would fight a third match to truly determine who was the best, Razor mysteriously walked away from boxing.
Thirty years later, despite the unanswered questions, everyone moved on. The Kid became a business man riding the fame of Eighties celebrity while Razor lived a quiet and unassuming life working in a factory. Along comes Dante Slate, Jr. (Kevin Hart), Dante is the son of a sleazy ring promoter, and it's his job to get the aging fighters to agree to let themselves be characters in a video game so that people can virtually relive the rematch they never saw. Trouble brews when the two fighters are in the same room, and fisticuffs occur while someone catches the action on a cell phone video and then all of a sudden, demand for the fight is at an all-time high.
There are elements to Grudge Match that are incredibly compelling, but completely glossed over for the sake of comedy. When you find out Razor's reason for quitting, it makes sense knowing the effect it had on The Kid. While The Kid isn't hurting financially, there is very clearly an empty part of his life. Even the unintended consequences of Razor's decision are kind of heartbreaking. The idea of the son of a promoter that ripped off The Kid and Razor so much that his bad reputation had spread on over to the son that bears his name when all he wants is to be a legitimate boxing promoter is an extremely interesting angle and one we've never really seen before. The redemption that every character seeks here is noble, and had the potential of making this a great sports move the likes of which we've never really seen.
What we get instead is a slapstick comedy that plays up the clumsy old guy angle and the short black character who gets called all sorts of names like Webster. Not to mention the completely ridiculous premise that in no world could Robert De Niro ever outbox Sylvester Stallone. The difference in the kind of shape they're both in physically compared to each other is downright laughable (in a bad way) and Stallone could in real life wipe the floor with De Niro. The writing in Grudge Match feels lazy in every place, held together only by really solid direction from Peter Segal, who's got a pretty strong history with comedy and sports movies (The Longest Yard remake and 50 First Dates, to name a couple), but even that doesn't salvage the movie as a whole.
While Grudge Match isn't a terrible movie, in the busy week that is Christmas you'll have a myriad of films to choose from to see while you avoid spending time with your family. This might be one you'll want to skip.