AFS Essential Cinema: Russian Films of the Past Two Decades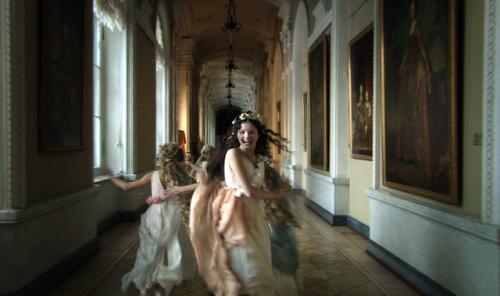 The tumultuous and dangerous political atmosphere that defined 20th-century life in the Soviet Union made it difficult for Russian artists to reach their potential, and it wasn't until the dissolution of the USSR that expressing creative freedom at home became a real possibility.
Beginning in January, Austin Film Society will present a series of movies that reveal the pent-up talent and emotion of six different Russian directors working at a time when they were finally free to analyze and critique Mother Russia and its people. All released in the last 20 years, the eight films of "Pushing the Curtain Aside: Russian Films of the Past Two Decades" portray a range of styles and subjects but share a dedication to originality.
Screenings all take place Thursdays at 7:30 pm at the Marchesa. Go here for more information about screenings and tickets, and take a look at the lineup below.
Vanished Empire (Ischeznuvshaya imperiya, 2008) -- Thursday 1/2 [tickets]
A restless Moscow 18-year-old rebels against his family and traditional society 15 years before the collapse of the USSR. Directed by Karen Shakhnazarov.
The Rider Named Death (Vsadnik po imeni Smert, 2004) -- Thursday 1/9 [tickets]
A group of terrorists targets various high ranking officials during the beginning of the 20th century, with their main objective being to kill the Grand Duke.
The Return (Vozvrashchenie, 2003) -- Thursday 1/16 [tickets]
Two brothers deal with the surprising appearance of their estranged father, who has been absent for 12 years.
Brother (Brat, 1997) -- Thursday 1/23 [tickets]
A young man returns from the army and soon joins his brother in his work as a contract killer. This dark, moody film illustrates the crime and violence prevalent in 1990s St. Petersburg.
Elena (2011) -- Thursday 1/30 [tickets]
A retired nurse marries one of her ex-patients who happens to be very wealthy. As his health worsens, the couple's grown children from previous marriages greedily eye Elena's impending inheritance.
Hipsters (Stilyagi, 2008) -- Thursday 2/6 [tickets]
Moscow teenagers embrace American fashions and jazz culture in 1955 in this fun and colorful film. AFS Director of Programming Chale Nafus included this one because he felt the series wouldn't be complete without a musical, and his guess is that "Soviet Premier Nikita Khrushchev would have accepted [Hipsters] as a consolation prize for being turned away from Disneyland in 1959."
Mother and Son (Mat i Syn, 1997) -- Thursday 2/13 [tickets]
A son nurses his dying mother through her final days in this melancholy family love story set against the backdrop of the beautiful Russian countryside.
Russian Ark (Russkiy kovcheg, 2002) -- Thursday 2/20 [tickets]
The first feature-length film shot in a single take, Alexander Sokurov's ambitious project examines Russian history through the eyes of a narrator as he explores the Hermitage Museum in St. Petersburg. (See photo above.)