Movies This Week: December 13-19, 2013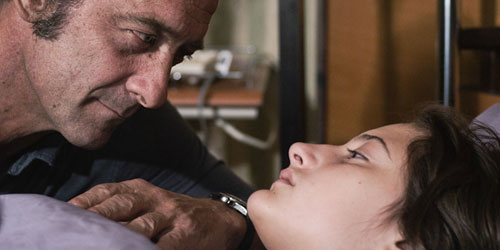 It's a relatively light weekend for new releases, with most area theaters stacking up screens for the multiple formats of the new Hobbit adventure. In the weeks ahead, things should pick up considerably as we sail full-steam ahead into year-end prestige titles for awards season.
If you're looking for holiday classics, the Paramount has 35mm screenings of White Christmas and Meet Me In St. Louis playing on Sunday and Monday. The Austin Film Society has a much darker holiday offering at the Marchesa with Zach Clark's White Reindeer on Saturday night. This new release from IFC Films won raves at SXSW earlier this year and lead actress Anna Margaret Hollyman will be in attendance for a Q&A.
Speaking of dark, AFS also is bringing the new film from Claire Denis to town this weekend. Bastards (pictured above) is an unsettling story of betrayal and sexual intrigue with a final shot that made my jaw drop. Featuring an amazing score by Tindersticks, it plays at the Marchesa tonight, Sunday and again on Tuesday. Neil Jordan's 1982 debut film Angel plays for Essential Cinema on Thursday evening. This film is difficult to come by stateside and is a part of the "First Wave Of Irish Cinema" series.
Drafthouse Films is re-releasing Abel Ferrara's long out-of-print revenge thriller Ms. 45 this weekend on the big screen in New York and Austin before expanding to other cities. This fully restored and uncut edition is playing at the Alamo Slaughter tonight and again on Sunday. Hopefully we'll get a few more scattered screenings in the months ahead before it hits home video next March.
Spend your Saturday afternoon laughing at the Alamo Ritz with Laurel & Hardy. A 16mm "festival of laffs" is booked with 4 short films from the legendary comedy duo. The Ritz also has a rare 35mm screening of one of the greatest fashion documentaries of all time, Unzipped, playing on Monday night as part of the Homo Arigato series. Girlie Night has another showing of Love Actually on Tuesday and Cinema Club welcomes Lars Nilsen back to the Alamo for a 35mm screening of In The Heat Of The Night on Wednesday.
Finally, with awards season on the horizon, Woody Allen's Blue Jasmine returns to the Regal Arbor, Regal Metropolitan and the Cinemark Hill Country Galleria this weekend while Alexander Payne's Nebraska expands to the Violet Crown Cinema.
Movies We've Seen
The Hobbit: The Desolation Of Smaug -- Peter Jackson follows last December's first installment of The Hobbit series with the second film in the trilogy. Debbie's got our review and she enjoyed it a hell of a lot more than An Unexpected Journey, so that's encouraging. Available in 2D, 2D 35mm (at the Alamo Ritz), 3D IMAX (70mm print at the Bob Bullock on the biggest screen in Texas!), D-Box Motion Seating (at the Galaxy Highland) and High Frame Rate 3D formats at select theaters. (wide)
Also Opening In Austin
Anchorman 2: The Legend Continues -- Paramount is not screening the return of Ron Burgundy and company until next week, although I've already seen so many damn ad campaigns for the film and related promotions that it feels like I've seen the movie. To be fair, this is the kind of movie that is 150% critic-proof. No matter what, it's going to pull in a solid audience over the holidays. Look for my review next week. (wide - screenings begin on Tuesday, Dec. 17)
Tyler Perry's A Medea Christmas -- The seventh movie in the Medea franchise serves up a supporting cast that includes Tika Sumpter (from Sparkle), Larry The Cable Guy and Lisa Whelchel (aka Blair from The Facts Of Life). (wide)