Holiday Favorites 2013: Holly Herrick Chooses 'The Silver Skates'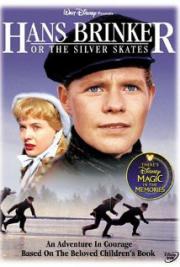 Welcome to Holiday Favorites, a series in which Slackerwood contributors and our friends talk about the movies we watch during the holiday season, holiday-related or otherwise.
Today's inspired choice comes from Austin Film Society Associate Artistic Director Holly Herrick. Her pick is a classic from 1962: Walt Disney's Wonderful World of Color presents Hans Brinker or the Silver Skates: Part 1 and Part 2, directed by Norman Foster. "AKA, the only time I will ever prefer Disney to Sidney Lumet," Holly says. Here's why she loves this one so:
On Christmas Eve every year, after our traditional holiday dinner of hominy grits and homemade sausage served with King corn syrup, my brothers and sisters and I dig out an old re-recorded VHS tape from sometime in the early 80s of the 1962 Disney's Wonderful World of Color version of Hans Brinker and the Silver Skates. The film is an adaptation of a popular 1865 novel depicting Netherlands life in the early 19th century, focusing on the children of a working class Dutch family who dream of winning a speed skating contest.
Sidney Lumet was the first to adapt this story for the American television audience in 1958 through the long-running anthology series presented on NBC by Hallmark, Hallmark's Hall of Fame. Lumet's Hans Brinker and the Silver Skates became the most viewed Hallmark Hall of Fame episode to date, and I can only imagine that the Disney produced version was in part a business reaction to the popularity of Lumet's musical, which starred Hollywood leading man Tab Hunter in the title role, opposite singer and starlet Peggy King.
While the Lumet musical is definitely worth watching (particularly for Lumet die-hards who will appreciate things like a John Fiegler cameo), I prefer the Wonderful World of Color version by early talkies-actor-turned-TV-director Norman Foster. Foster's Hans Brinker is not a musical, and it is shot on location in the Netherlands and in Sweden (rather than in a studio in Brooklyn like the Lumet version). It is a mostly Scandinavian production, featuring an all-Scandinavian cast reciting English dialogue.
Aside from my emotional attachment to this movie, the reason I love the Foster version so much is that it is essentially a Bergman movie for kids (because let's face it, Fanny and Alexander is not for kids!). For one, the co-DPs are Bergman cinematographers Gunnar Fischer and Sven Nykvist, and so it has the gorgeous visual dimension and masterful painterly low-light work that you'd expect from them. Secondly, the experienced actors are almost all Bergman veterans, like the wonderful Inga Landgré and Erik Strandmark, who play the parents of Hans and Gretel Brinker.
While the film is not without its Disney moments and Disney ending, it has a wonderful darkness to it -- Hans Brinker's father (Strandmark) loses his mind after a dyke accident leaves him with a serious head injury, the family is cast into real poverty, Hans and his sister Gretel face class discrimination, and Hans even gets kidnapped! Also, while the skating competition is the real narrative thrust of the story, the subplot is that Hans Brinker is a talented artist who dreams of making a living selling his drawings and paintings, and his central struggle is to find the means and opportunity to make art.
Aside from its wintery setting, the scenes depicting Dutch Christmas traditions make Hans Brinker a perfect choice for the holidays. This also falls into the camp of films that you can watch with your kids and actually enjoy (though I have been watching this since I was in preschool, and now I am addicted to art cinema, so draw your own conclusions and maybe be careful with the kind of crazy cinema you introduce to your impressionable angels!)
This movie might be hard to get your hands on, it was unavailable on home video for years, but it looks like Disney is now printing copies as it appears to be available on Amazon. Get yourself a DVD and start your own holiday tradition with this underseen Christmas delight.
Want to watch? Hans Brinker or the Silver Skates is indeed available to buy on DVD, so check with your favorite store or online outlet to track down a copy.