Holiday Favorites 2013: Heather Kafka Thinks 'It's a Wonderful Life'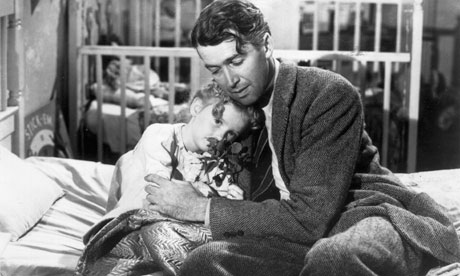 Welcome to Holiday Favorites, a series in which Slackerwood contributors and our friends talk about the movies we watch during the holiday season, holiday-related or otherwise.
It's a Wonderful Life is a popular pick this year! Austin actress Heather Kafka (Kid-Thing, Loves Her Gun) writes about what the 1946 film means to her.
"Is he sick?"
"No, worse, he's discouraged."
I remember walking into my parents' living room one day and an old movie was on. I don't remember how old I was but I do remember feeling like the TV was talking to me. I've tuned in every year since that day. It's a Wonderful Life never ever NEVER gets old. I feel and see something new in it every single time.
Sure, I could mention all the obvious things like the acting, the story, the comedy ... the swimming pool in the floor, the missing $8,000, ZuZu's petals ... Jimmy Stewart running through the town square shouting "Merry Christmas, Bedford Falls!"
But what makes the movie so personal to me, so that it is not only one of my favorite Christmas films but one of my favorite films of all time, is that to me, it feels alive. Austin, Texas is my Bedford Falls. I wanted to be an actor and do big things since I could remember being alive. George Bailey is me.
My mother owns a small hair salon and I often found myself working for her. We've even had the conversation where she's asked if I might be interested in taking over some day. I've seen firsthand how her service impacts every single life she touches in a very simple but sometimes profound way. But I've always had such huge ambitions and struggled with being incredibly driven yet incredibly grounded.
I've always wanted to be that good person while doing big things. So I graduated from high school and left for L.A. because my mother always told me that I could do anything I wanted in life. And then I proceeded to move back and forth for over a decade, with the pull of home always calling me back, always competing with my biggest dreams, always feeling like what magic I had here at home was real but simple; but I wanted to lasso the moon. It was "tough" being lucky enough to have been born in the coolest place on the planet.
Mary is the other side of me; the fix-it-up and make-great-the-things-that-you-have mentality. The one who reminds me that at the end of all our lives, what will in fact matter the most is our family, friends and the little community around us. Even the best and most moving performance will feel elusive in its impact and hard to remember. But what will always feel real and exactly like what life is all about will be the ones beside me and the feel of their hand in mine.
And, yes, I cry every time all the townspeople bring their money at the end. Seeing gratitude and giving celebrated always makes me cry ... I mean ... I feel like I got something in my eye ...
Favorites:
Jimmy Stewart's performance when Mary loses her robe and hides in the bush. "Well, this is a very interesting situation!" Also, when Mary threatens to call the police and George points out that they'd be on his side.
The actor who played young George Bailey/Jimmy Stewart and how good he is with Mr. Gower.
All the hat jokes and comedy of the wedding night in the old house.
How the worst thing that becomes of Mary is that she's a cliche, an old maid.
The woman during the bank run who just wants $17.50.
Trivia:
The cop and cabbie are named "Bert" and "Ernie."
There is a skull on Mr. Potter's desk.
None of that snow is real.
Want to watch? This classic is available on DVD and Blu-ray, and you can buy a digital copy from Amazon or iTunes. Vulcan Video also has it for rental at their north location.