TAMI Flashback: A Man Who Left Town, and One Who Didn't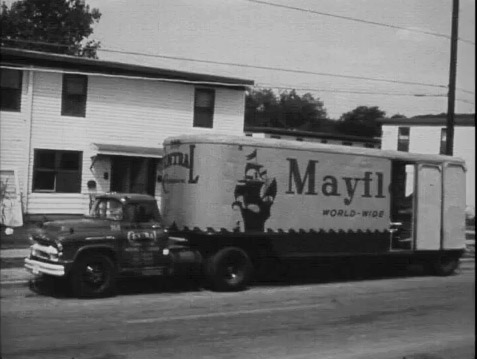 This article is the fourth in Slackerwood's second series about the Texas Archive of the Moving Image (TAMI) video library. For an overview of the TAMI site, refer to this article in the first series.
Austin's population has grown dramatically, increasing almost nonstop for the last century. But while the River City is famous for turning newcomers into lifelong Austinites, not everyone stays here. (This may be hard to believe as we watch development gobble up acre after acre of land.)
This first video in this month's TAMI Flashback is the story of one such Austinite, a young man who moved away for lack of work. The Man Who Left Town, a 1961 episode of KTBC-TV's Project 7 public affairs series, is a classic exercise in chamber of commerce boosterism, lamenting Austin's lack of industry and discussing ways to foster economic growth.
Directed by legendary Austin cameraman and director Gordon Wilkison, The Man Who Left Town introduces us to Wendell Baggett, a native Austinite and freshly minted University of Texas graduate. (I'm guessing at the spelling of Baggett's name; the credits don't list the characters or say whether they're real people.) As the story opens, Baggett and his young family are moving out of the Brackenridge Apartments. They want to stay in Austin, but are leaving because Wendell can't find a job as a chemical engineer, as Austin isn't a hotbed of chemical production or research. (It still isn't, especially after Huntsman Petrochemical shuttered its sprawling Austin facility in 2005.)
What can Austin do to help poor Wendell and his fellow graduates find work? Bring more industry to town, of course. Via person-on-the-street interviews, The Man Who Left Town tells us that most Austinites would welcome more research facilities and factories. That is, as long as the plants aren't too dirty and don't attract "riffraff," as one man cautions. Narrator Dan Love also mentions "no paralyzing strikes" -- in other words, no commie union organizers!
Mayor Lester Palmer and various business leaders then discuss how to broaden Austin's industrial base. The interviews drone on and are rather dull -- that is, except for their fascinating backdrops. First, commercial developer Joe Crow talks business in the middle of a vast, empty field near Burnet Road in North Austin (now a thriving commercial area), with the Balcones Research Center on the horizon. Nearby are the Glastron Boats factory and the then-new Steck Company commercial printing plant.
Next, the owner of Texas Industrial Laundries discusses his shiny new facility on Bolm Road, a familiar building still in use by a commercial uniform supply company (it's no longer shiny). Other interviews take place at the American National Bank building on 6th Street and Austin Chamber of Commerce headquarters on Riverside Drive.
Despite everyone's high hopes in The Man Who Left Town, Austin never became an industrial city in the traditional sense. But this may have been a blessing, given the decline of American manufacturing in later decades. And the city leaders certainly did a bang-up job of developing newer, more sustainable industries, making Austin a high-tech mecca. Later in his life, Wendell Baggett might have found a good job in his hometown.
[View original at Texas Archive of the Moving Image.]
Wilkison also directed this month's other featured video, which honors a man who never left town -- and whose civic contributions no doubt inspired many others to stay here also. The Tom Miller Story, a tribute to the longtime Austin mayor and civic icon, aired on KTBC-TV after Miller's death in 1962.
Lifelong Austinite Miller was mayor from 1933 to 1949 and again from 1955 to 1961. His impressive political skills and high-powered contacts were instrumental in creating modern Austin. Many local institutions were built on his watch, including Bergstrom Air Force Base, Municipal Auditorium, City Coliseum, Municipal Golf Course, Tom Miller Dam, the Mueller Airport and Brackenridge Hospital expansions, and many libraries and other public facilities. Miller's legacy isn't just buildings and economic development, however; he also was a civil rights and anti-poverty activist who strongly supported Austin's African-American community.
The Tom Miller Story is a great lesson in Austin history, highlighting Miller's achievements and his integral role in the city's development. The video includes lots of vintage Austin photos, as well as remarks from local leaders who are still household names: Mayor Lester Palmer and city council members Gene Bartholomew, Ben White and Emma Long. (How well connected was Miller? Even Lyndon Johnson pays his respects, saying Miller was one of his best friends.)
Aside from being a priceless historical document, The Tom Miller Story is a terrific example of early Austin TV productions. It's charmingly low rent; the visual effects are primitive, and some of Miller's friends are obviously uncomfortable appearing on television, fidgeting and awkwardly reading their scripts. But crude or not, The Tom Miller Story is a fitting tribute to one of Austin's favorite sons.